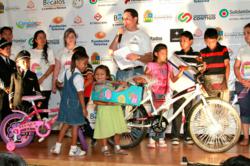 As part of the program Si lo Sueñas es Posible (If You Dream it, it's Possible) two young children who wanted to see the ocean for the first time stayed in the ecotourism complex as guests of Sunset World and Fundación Televisa
Riviera Maya, Q. Roo (PRWEB) October 11, 2011
As part of the alliance between Sunset World y Fundación Televisa, Hacienda Tres Ríos Resort, Spa & Nature Park Riviera Maya hosted the annual meeting of the programs that make up the foundation. Entrepreneurs, government authorities, artists and university students all participated in the meeting.
The ecotourism complex welcomed important guests like Enrique Beltranena, General Director of Volaris, Claudio X. González and Alicia Lebrija Hirschfeld, President and Director respectively of Fundación Televisa, Germán Ahumada Alducín, President of Fundación ARA, Don Alfredo Achar, President the Administration Council of Comex and José Ignacio Ávalos, Presidente of Un Kilo de Ayuda, and winners of the social media contest "Contribuye con tu granito de arena".
The directors of each of the programs that make up Fundación Televisa were also in attendance such as Bécalos, Construyendo Casas con Grupo ARA, Si lo Sueñas es Posible y Fundación Televisa Verde. Sunset World y Volaris, two of the main companies Fundación Televisa is aligned with also attended.
As part of the alliance with Fundación Televisa through the Programa Si lo Sueñas es Posible, Hacienda Tres Ríos hosted two children diagnosed with serious medical conditions who flew to the Riviera Maya  on a Volaris flight, where they accompanied the pilots in the cabin in order to live their dream of becoming pilots. While staying at Hacienda Tres Ríos they participated in many activities such as the Sense Adventure Tour, swimming in rivers in the nature park and preparing their favorite food, pizza.
In an emotional moment during the ceremony, Fundación Televisa surprised 7 brothers and sisters from Puerto Aventuras when scholarship students presented them with gifts.
In addition to bloggers and members of the media, actress Florencia de Saracho and actors Roberto Palazuelos and Gabriel Soto also attended the annual Televisa meeting. Scholarship students from Universidad Anáhuac, Tec de Monterrey, Universidad Iberoamericana, and Colegio Americano were also in attendance.
The Municipal President of Solidaridad, Filiberto Martínez welcomed the attendees and thanked the businesses and foundations that have contributed to improving the lives of residents of his municipality.
It should also be mentioned that UNETE donated a classroom and painted the homes of needy residents of Puerto Aventuras as part of the Corazón Urbano A.C. project.
###