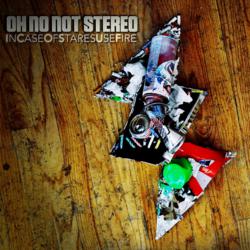 Los Angeles, CA (PRWEB) October 10, 2011
Los Angeles-based indie rockers Oh No Not Stereo (ONNS) will celebrate the debut of their new album, "InCaseOfStaresUseFire" with a record release party and music video viewing party on October 11th at the legendary Roxy Theatre on the Sunset Strip in West Hollywood. Presented by ASCAP, doors open at 7:00pm and opening acts are scheduled to include Shane Divine, Kingsley, Heads Up and The Sunnyside.
ONNS was formed in 2003 by vocalist and multi-instrumentalist Skyler Nielsen and multi-instrumentalist Mykul Lee. Since the release of the group's debut "001" in 2005, the duo has embraced an ever-changing music industry and continuously seeks new, innovative ways of creating and releasing content. Since 2005, they have released two EPs and three full-length albums. In 2009, ONNS sold an impressive 15,000 copies "out of the trunk" of their self-released album, "003" and the album spent seven consecutive weeks on the CMJ Top 200 radio charts.
"InCaseOfStaresUseFire" was produced and mixed by Jayson DeZuzio (Foxy Shazam/Cobra Starship/Coheed and Cambria) and features special guests guitarist/vocalist Shawn Harris (The Matches/Maniac); vocalist/guitarist Jake Grigg (Something With Numbers/Maniac) and guitarist Jussi Karvinen. Recorded both at the band's home studio and at SoundFactory Studios Hollywood, Oh No Not Stereo's highly anticipated fifth release offers fans 10 tracks of the band's unique blend of straightforward rock infused with hints of pop.
"InCaseOfStaresUseFire" offers a dynamic range of songs including the infectious, power pop first single, Static Friction Heart - the searing, guitar-driven anthem She's Electric and the beautifully orchestrated ballad Brighterside among others. While there's a notable thematic variety to the songs, the common thread in Oh No Not Stereo's music is an undeniable positive energy.
"We take a lot of pride in being independent, which allows us to do whatever we want musically," Skyler says. "No two songs on this record are about the same thing or same person, yet each song was written in confidence that the listener will be able to relate."
Adding a visual element to their latest release, ONNS conceptualized and filmed a music video for each of the 10 songs on the album. The bands video for "All You" off their last album will be featured in the upcoming premiere episode of MTV's reboot of Beavis and Butthead.
Songs from ONNS have been featured on TV shows such as: The Real World, Punk'd, The Daily 10 and LA Ink among others. ONNS have also toured extensively in North America, Canada and the U.K. with bands like The All-American Rejects, Bayside and The Photo Atlas.
"We've been around for a while and we're definitely not about to go away," says Mykul. "You can always expect something a little different from us. We keep it fresh and don't abide by standards put in place by any record label. The boundaries of this industry need to be challenged and that's exactly what we're trying to do."
For additional information please visit: http://ohnonotstereo.com/site/
To purchase tickets to the October 11th listening party at The Roxy, please visit: http://theroxyonsunset.com/
###