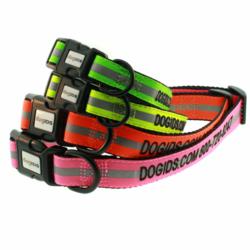 We want to encourage pet owners to remember the basics of Halloween safety...
Fargo, ND (PRWEB) October 11, 2011
dogIDs, a leading provider of personalized designer dog collars, custom dog tags, dog beds and dog leashes, has numerous reflective and light-up collars, leashes, lights and more to keep dogs safe this Halloween season.
"We want to encourage pet owners to remember the basics of Halloween safety: keep the candy away, avoid unsafe pet costumes, watch dogs so they don't dart out the door when greeting trick-or-treaters and so on," says Clint Howitz, pack leader and president of dogIDs. "Most importantly, we want to remind pet owners to have proper identification on their dogs and to use reflective or light-up products for evening and nighttime walks."
dogIDs's reflective products include:
Embroidered Reflective Personalized Dog Collar – This durable collar, which literally saved a dog's life, comes in seven highly-visible colors. The collar is made in the USA and can be personalized up to 25 characters. A matching leash is available.
Reflective ScruffTag™ Personalized Dog Collar – Truly the "next big thing" in ID collars, these highly visible and reflective collars a unique web address and engraved QR code, the latter which can be scanned with any smartphone, including iPhone, Android, BlackBerry, Microsoft Windows Mobile and more. The ScruffTag itself sits on the scruff or back of a dog's neck, making it easy to scan the QR code without having to reach under a dog's jowls. The collar can also include the pet's name and the owner's phone number.
The company's light-up products include:
Magic Marker LED Dog Collar Cover – This portable LED glow strip can be seen from more than one mile away and has a 100,000 hour battery life. It easily attaches to collars with hook and loop fasteners.
Nite Dawg Light-Up L.E.D. Dog Collar – An LED technology light is embedded inside this superbly durable collar that features flash or glow modes. A glowing leash with embedded LED technology is also available.
SpotLit LED Clip-on Dog Collar Light – This compact clip-on light is water resistant and available in four colors and a "disco" option that rotates through the color spectrum.
"With proper ID collars and products that ensure their dogs can be seen, pet owners can relax and enjoy Halloween as well as those nighttime strolls with their best friend," Howitz says.
About dogIDs
Since 1999, dogIDs has been producing personalized dog collars, custom dog tags and unique pet ID tags. In addition to its wide selection of handmade designer dog tags, the company also offers other distinctive dog accessories, including custom leather dog collars, embroidered dog collars, designer dog collars, dog leashes, dog harnesses, dog apparel, dog beds, dog safety and health products, electronic bark collars, electronic dog training collars and many more high-quality accessories for dogs. Visit http://www.dogIDs.com for more information.
# # #