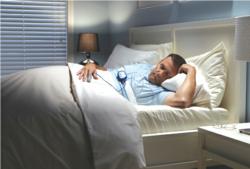 One of the main reasons for OSA patients going undiagnosed or untreated is anxiety about spending a night in a sleep lab. Midmark's SleepView combines the comfort and familiarity of one's own bed without sacrificing on diagnostic accuracy.
Versailles, Ohio (PRWEB) October 17, 2011
Sleep Apnea: A Growing Health Concern
According to the National Institute of Neurological Disorders and Strokes, an estimated 18 million Americans have sleep apnea. However, few of them have had the problem diagnosed.
Sleep apnea is the repeated interruption of normal breathing during sleep. Obstructive sleep apnea is the most common type of breathing-related sleep disorder. In patients with OSA, the airway collapses, temporarily restricting airflow to the lungs. This partial airway obstruction causes the upper airway tissue to vibrate and produce the sound of the classic snore.
As OSA develops, it has a cumulative effect, meaning that the longer the disease goes untreated, the greater the negative side effects and associated health risks. According to numerous research studies, if sleep apnea remains untreated, other health conditions may emerge or current health problems may worsen, including:

High blood pressure
Heart disease
Heart attack
Heart failure
Stroke
Diabetes
Depression
Reflux disease (GERD)
Atherosclerosis
Gestational diabetes
Sexual dysfunction
SleepView: A Convenient Option for Diagnosing Obstructive Sleep Apnea
SleepView gives physicians another option for testing patients whom they suspect may be suffering from OSA. Patients can be tested for OSA in their own bed – without any observers and with just a few sensors attached to measure up to seven different channels of information, thereby reducing anxiety and leading to a more natural night of sleep. The comfort and familiarity of being tested in one's own home at the direction of their doctor helps patients overcome the initial hurdle of being tested so that the disease can be effectively identified and managed.
The SleepView Monitor is lightweight and allows patients to sleep in the position that is most normal and comfortable to them. The system consists of three components:
A Respiratory Effort Belt, with an affixed monitor for home recording of sleep, that uses Velcro tabs to secure comfortably around the patient's chest.
A Nasal Cannula that connects to the monitor, with the nasal prongs at its other end for gently inserting into the patient's nose.
A Pulse OX Sensor that plugs into the SleepView monitor. Patients slide either index finger into the sensor.
Testing can occur during one night of sleep after the prescribing physician provides the device to the patient. Once the patient has watched the short introductory video and administered the test, he or she returns the device to the prescribing physician. The physician then uploads the sleep test data into a secure, HIPAA compliant, SleepView web portal where it is scored by registered polysomnographic technologists and interpreted by board-certified sleep physicians. The physician schedules a follow up visit with the patient to review test results, provide treatment recommendations and discusses long-term management to ensure treatment effectiveness.
The SleepView medical device meets all American Academy of Sleep Medicine (AASM) and Centers for Medicare and Medicaid Services (CMS) guidelines for a Type III Home Sleep Test. While CMS has found sufficient evidence to support Type III unattended sleep testing devices to aid in the diagnosis of OSA, physicians and patients should check with local carriers for more information regarding reimbursement and coverage.
Quotes attributable to Tom Treon, senior product manager for Midmark:

"Sleep disordered breathing affects millions of people and is associated with serious health consequences and diminished daily functionality. The occurrence of OSA in the population is as common as asthma and diabetes; yet, 85 percent of those with the disease remain undiagnosed and untreated."
"One of the main reasons for OSA patients going undiagnosed or untreated is anxiety about spending a night in a sleep lab. Midmark's SleepView combines the comfort and familiarity of one's own bed without sacrificing on diagnostic accuracy."
"Economic studies also have shown that people with untreated OSA have 200 percent higher healthcare costs than similar people without OSA."
Related Resources:
http://www.midmarksleepview.com
SleepView by Midmark – Video Overview
How to Use SleepView by Midmark – Instructional Video
SleepView Images
Social Media Links:
Midmark Twitter
CleveMed Twitter
CleveMed Facebook
About Midmark
Midmark Corporation brings efficient patient care to millions of people each day in the human and animal healthcare industries around the world. The most trusted name in medical, dental and veterinary healthcare equipment solutions, Midmark is committed to providing innovative products and services for the healthcare professional, integrating value-added technology into everything it does. With more than 1,400 teammates worldwide, Midmark is dedicated to making a positive difference in the practice of healthcare. Headquartered in Versailles, Ohio, Midmark Corporation maintains four subsidiaries in the United States. To support international healthcare markets, it holds subsidiaries in France, India and Italy. For more information about Midmark, visit the company's Web site at midmark.com.
About CleveMed
SleepView is a registered trademark of and manufactured by Cleveland Medical Devices Inc. of Cleveland, OH (CleveMed). CleveMed develops innovative biomedical devices, and is a leader in miniaturized wireless telemetry and physiological monitoring devices. CleveMed has developed a growing range of products that address the needs of those with sleep disorders, including SleepView, Crystal Monitor PSG series, Sapphire, SleepScout, DreamPort. CleveMed's wireless sleep products allow sleep studies to be conducted remotely, and monitor a wide range of sleep disorder symptoms, while eliminating the need for typically bulky sleep diagnostic equipment. For more information, please visit: http://www.CleveMed.com.
###