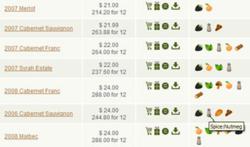 We've focused on making this an intuitive way to find wines that suit a wine drinker's palate
Santa Fe, NM (PRWEB) October 11, 2011
WineWeb.com has enhanced its wine search functions to include wine flavor profiles. Consumers can find wines by flavor and buy wine online direct from wineries. Any winery in the world can participate in this wine listing service and add their wines and wine flavor profiles.
WineWeb's wine flavor profiles are a way to quantify the flavors (aromas & tastes) in a wine, to allow consumers to find wines by flavor and to find wines matching the flavors of another wine. WineWeb has identified over 240 flavors through considerable research from numerous wine tasting authorities and references. They've grouped these flavors into 16 wine flavor groups to make it easy to search and select the wine flavors.
"We've focused on making this an intuitive way to find wines that suit a wine drinker's palate," states Ron Kreutzer, Founder and President of WineWeb Enterprises, Inc. "Consumers can view the wine flavor profiles of their favorite wines and find new wines to try, which match or are similar to a wine's flavor profile. We did all of this so consumers can find wines they like. We focused on flavors, as at the end of the day, that's what really matters in determining if someone likes a wine," continues Kreutzer. Wine lovers can save flavor profiles to their myWineWeb account or add the wines to their wish list.
WineWeb has been in business over 16 years and has built a directory of over 37,000 wineries from around the world. Over 900 wines have a wine flavor profile established.
Wine lovers can search by wine flavor alone or combine it with other wine search functions. So if a consumer is relatively new to wine, they can find wines with blackberry and spice flavors to match a wonderful wine they had at a restaurant. If they've been around wine longer, they can find a Syrah from the Sierra Foothills area of California matching flavors of blackberry, black cherry and toasted oak.
Wine flavor profiles are available at http://www.wineweb.com/flavor.
About The WineWeb:
WineWeb Enterprises, Inc., founded in 1995, was the first winery e-commerce service and continues to deliver innovative, cost-effective winery Internet services, including websites, e-commerce sales for consumers and trade, point-of-sale, wine club processing, email campaign management and customer relationship management. The robust feature set effectively supports larger sized wineries, while the value enables smaller wineries to have an integrated direct sales channel solution that they will never outgrow.
WineWeb also maintains the largest online directory of over 37,000 wineries, and provides an online marketplace for consumers and the wine trade to find wine and buy wine online, from about 250,000 wines available direct from wineries and online wine merchants.
For more information, visit http://www.wineweb.com.
###