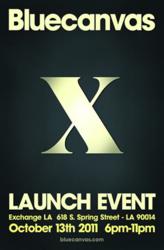 A major attraction of the DTLA Art Walk, Bluecanvas Magazine, will be exhibiting many talented artists and live events on October 13, 2011 at Exchange LA, 618 S. Spring St. Los Angeles, CA 90014.
Los Angeles, CA (PRWEB) October 12, 2011
The Downtown LA Art Walk is a monthly showcase and celebration of the best galleries, artists, photography, restaurants, bars and shops, food trucks, and businesses located in Downtown Los Angeles where people of all walks of life can come together and celebrate.
Exhibiting Artists are Stephen Cefalo, Eric Chiang, Charles Clary, Sam Wolfe Connelly, Tom Haubrick, Danni Shinya Luo, Perin Mahler, Michael Vincent Manolo, Michael Oswald, Nathan Ota, John Park, Amy Yung, Kevin Chen, Charles Hu, Mark McDonnell, Radford Sechrist, Edgar Silva and Anthony Jones.
The event will host live events including:
Live Digital Painting by: Anthony Jones
Live Tattoo by: Johnny Quintana of Ink Shop Tattoo
2 Live models will be present for the event: Larva & Tiffany
Live Painting/Drawings by:
Kevin Chen
Charles Hu
Mark McDonnell
Radford Sechrist
Edgar Silva
Special Guest DJs: KCRW DeeJay Anthony Valadez and Ramon Cho
Special Scion Art Cars will be displayed at the event!
"For the Issue 9 launch event, Scion provided the David Choe, Giant Robot and Mr. Cartoon Art Cars, and KCRW Dee Jay Anthony Valadez entertained the crowd with a set on the turntables. We hope the Issue X Launch is even more successful. We can't wait to see everyone at the October launch of Issue X!" said Scott Hitomi, Managing Editor/COO of Bluecanvas.
"Bluecanvas Magazine Issue 9 Launch Event was a real success due to the continuing support of our fans, artists, sponsors and community. In addition to our local, live and digital artists, some out of state and international exhibiting artists were able to attend the event," said Jimmy Yun, President/CEO of Bluecanvas.
For Launch Event X, Bluecanvas will be collaborating with Ringling College of Art and Design and The World is Just a Book Away (WIJABA).
Ringling College of Art and Design, who has cultivated the creative spirit in students from around the globe and changed the way the world thinks about art and design for more than 79 years, will be exhibiting a collection of prints created by students, faculty and alumni of the school.
The World Is Just A Book Away (WIJABA), who has built sustainable libraries and programs to serve 25,0000+ Children with 45,000+ Books, through 53 Libraries and 2 Mobile Libraries at 100+ Schools, will be exhibiting a partial collection of images taken by the children of Sidoarjo, Indonesia who participated in the photography program.
All proceeds from the sale of the pieces will go towards the organization's cause. Following the show, prints of the images can be purchased on shop.bluecanvas.com. All profits will go towards the cause. Bluecanvas Magazine will be sending copies of Issue X to assist in filling the libraries being built.
This special quarterly event is sponsored by Scion, Epson America, Exchange LA, Red Engine, Blue Rooster Art Supplies, Bloodbath Project, Hold Up Art, Art Supply Warehouse, Assembly Line Collective, 1881 Project, Laguna Art Museum, Ink Shop Tattoo, Visionshock, Ringling College of Art & Design, 3 Kicks and Concept Design Academy.
About Bluecanvas:
Bluecanvas is a popular and fast growing online social networking website for artists from different creative, academic and cultural backgrounds. It is also an online marketplace for fine art prints, posters, giclée, large canvas wraps, framed prints and skins.
For more information about Bluecanvas, please visit http://www.bluecanvas.com. To learn more about Ringling College of Art and Design, please visit http://www.ringling.edu/. For detailed information about The World Is Just A Book Away, please visit http://www.justabookaway.com.
Press Contact:
Scott Hitomi
scott(at)bluecanvas(dot)com
(213) 617-8012
###