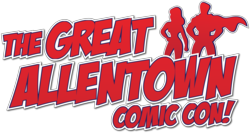 Christopher D. Wertz, Show Founder and Promoter says, "After the great response fans had for the 501st at our first show in 2010, it was an easy decision to expand and include the 'good-guys' for our first multi-day extravaganza event."
Allentown, PA (PRWEB) October 11, 2011
The Great Allentown Comic Con presents the Mega Show to be held November 19th and 20th with a science fiction theme featuring Star Wars guests and groups. Fans are invited to come together to collect unopened Star Wars toys for needy children and to bid high on original comic art in an auction fundraiser supporting an Epilepsy Awareness comic book.
Iconic Star Wars actor Peter Mayhew headlines a galactic sized group of Star Wars themed guests that includes Clone Wars voice actor Tom Kane in addition to an R2D2 droid unit, numerous Jedi, Imperial Storm Troopers, Bounty Hunters, and other fan favorite Star Wars characters of the 501st and Rebel Legions.
Peter Mayhew is best known for playing the Wookie Chewbacca in four of the major Star Wars films, a role the 7'2" English actor was born to play. In the years following the films, Mayhew has moved to the United States, become a citizen, and most recently begun writing children's novels with his wife Angie Mayhew.
Tom Kane has spent nearly three decades doing voice work, often times as the narrating voice that helps propel a story and draw listeners into fantastical worlds. Currently he plays the part of Yoda on Star Wars: The Clone Wars, while also providing the narrative voice for each episode. In addition to Star Wars, Kane has also worked on the popular children's cartoon The Powerpuff Girls and lent his voice to the 2011 movie, The Smurfs as the "Narrator Smurf."
Both the Garrison Carida® and the Rebel Legion will be at the show Saturday November 19th ONLY, and holding a special Star Wars themed trivia contest. Sunday see Peter Mayhew and Tom Kane discussing their experiences on Star Wars films and cartoons, so be sure to plan accordingly.
Additional guests are also being planned, and will be announced in coming weeks as well as detailed panel and event schedules. For more information visit us online at allentowncomiccon.com.
About The Great Allentown Comic Con! – The Largest Pop-Culture Comic Convention in the Lehigh Valley. Founded in 2010, by Riverside Comics; The Great Allentown Comic Con (GACC) is already one of the fastest growing Fan-focused events in the comics industry. Currently located in the 10,000 sq ft Showroom of the Merchants Square Mall in Allentown PA, the GACC is dedicated to producing celebrations of comics and popular culture by providing unique access to talented artists and a family-friendly experience for fans. The show motto "Get UR Geek On!" represents in part the recognition of the diverse and unique nature of our fans, and our commitment to providing events where they can come express themselves freely.
###