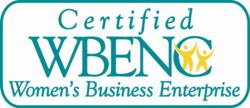 Valley Forge, PA (PRWEB) October 11, 2011
TVG Marketing Research & Consulting, LLC, is the proud recipient of The Women's Business Enterprise National Council's certification as a Woman-Owned Business. A major criterion for receiving this award is proof of effective management of the business including operating position, by-laws, hire-fire and other key decision-making roles.
The Women's Business Enterprise National Council (WBENC) recognizes and honors outstanding results in world-class supplier diversity programs. WBENC also strives to put the spotlight on women's business enterprises.
The WBENC certification for women-owned businesses is one of the most widely recognized and respected certifications in the nation. Accepted by over 700 major corporations across the country as well as a number of federal and government agencies, WBENC certification will be an important marketing tool for expanding the company's visibility among decision makers in corporate supplier diversity and procurement.
To learn more about TVG Marketing Research & Consulting, LLC, please visit http://www.tvginsights.com.
About TVG
TVG was founded in 1979 as a privately-owned company that focused on qualitative research, and was purchased 20 years later by a contract sales force organization looking to diversify its offerings. On September 21, 2010, Karen Fender, Senior Vice President at TVG, purchased the company, retaining the management team and several key Project Directors, along with a significant stream of business.
Over 25 years, Karen built her career in pharmaceutical marketing and market research in both entrepreneurial and Fortune 500 corporations. Immediately prior to joining TVG in 2005, Karen was Managing Director of the US Business Unit of P\S\L Research. Prior to her return to consulting, Karen worked at Wyeth (now Pfizer) and AstraZeneca. Karen is a graduate of Villanova University.
TVG helps optimize worldwide product performance by providing more comprehensive information and insights into your market and customers, across the entire lifecycle. TVG offers a full range of best-in-class quantitative methodologies, many developed as fit-for-purpose solutions to address our clients' specific business issues.
###