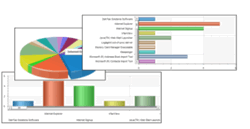 CrossTec EMS and CrossTec Remote Control enable us to practice several daily routines that we were not able to execute previously using other heavier technologies in our Bank. We have found CrossTec EMS and CrossTec Remote Control to be extremely flexible
Boca Raton, FL and Athens, GR (PRWEB) October 13, 2011
CrossTec Corporation and Akeydor Ltd announce today that South East Europe based Pancretan Cooperative Bank will extend their use of the CrossTec EMS and Remote Control software products.
CrossTec EMS is an IT Asset Management software tool that allows IT managers to perform a number of vital tasks in their organization with ease including hardware and software inventory and metering, internet metering and monitoring, software distribution, and energy monitoring. CrossTec EMS also contains a vast array of alerting tools, giving IT managers insight into what is going on with the technology in their organization at all times.
CrossTec Remote Control is a desktop management and control tool that allows IT managers to simply and quickly remotely access and control PCs, Macs, smart phones, or other devices across their organization. Remote Control gives IT managers the ability to monitor activity with advanced monitoring tools and interactive thumbnails.
CrossTec EMS and Remote Control integrate into one easy to use console and offer deployment tools for quick deployment across an organization. Both tools offer a Secure Gateway that provide a stable and secure method for tracking assets that may ordinarily be "hidden" on a remote network or behind firewalls.
"CrossTec EMS and CrossTec Remote Control enable us to practice several daily routines that we were not able to execute previously using other heavier technologies in our Bank. We have found CrossTec EMS and CrossTec Remote Control to be extremely flexible and helpful in our everyday working routines", says Manolis Sfakianakis, IT Manager at Pancretan Co-operative Bank.
Many organizations around the globe are reaping the benefits of the CrossTec EMS solution integrated with CrossTec Remote Control including:

Savings through process improvement
Support for Strategic Planning
Control of assets through hardware and software inventory, monitoring and metering
Compliance with licensing contracts
Enhanced performance of IT assets
Increased ROI
Reduced operating costs
If you would like more information on CrossTec EMS, CrossTec Remote Control, or any other products in the CrossTec lineup, please visit http://www.crosstecsoftware.com or http://www.akeydor.com.
CrossTec Corporation frequently offers free webinars demonstrating their IT Asset Management and Remote Control software. The next event will be held on October 26th. For more information or to register, please visit the registration page.
About CrossTec Corporation:
CrossTec Corporation, headquartered in Boca Raton, FL, has been a leading provider of software solutions that simplify network and classroom management since 1996. CrossTec's mission is to empower teachers and IT managers by offering a combination of education and enterprise-tested products, substantial feature sets, superior value, and unparalleled customer service. For more information on CrossTec Corporation or the CrossTec family of products, please visit CrossTecSoftware.com. CrossTec has distribution partners across the world for their vast array of software solutions. If you are interested in finding out how your organization can become part of CrossTec's distribution network, please contact info (at) crosstecsoftware (dot) com.
About Akeydor Ltd:
Akeydor implements business software solutions for the Remote Support and Management of desktops, servers and mobile devices in several operating systems today and within a variety of different environments. Akeydor's expertise in providing secure and flexible software programs to enable the management of a variety of systems puts us in the niche of Secure Remote Support, Management and Help Desk of all your systems today.
Akeydor has a strategic commercial relationship with CrossTec Corporation, supplier of Remote Control, Asset Management, Help Desk and Education Software based in USA. Akeydor products are being rendered across several industries, enabling organizations to operate efficiently and securely in today's multi platform and complex IT environments. Akeydor is a privately held company established in 2007 and operates internationally according to its original act of establishment statute of 9/2007.
About Pancretan Bank:
Pancretan Bank is one of the largest Co-Operative Banks in South East Europe, focusing on investment banking on properties as well as consumers and small businesses. The Bank was established in 1994 and has today over 80,000 active shareholders with a 14% market share on deposits. Pancretan Bank has a strategic alliance with the European Investment Bank to launch investments in agriculture and green energy in key areas around South East Europe. http://www.pancretabank.gr/
###