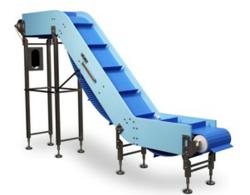 The DynaCon system is flexible. Its unique attributes allow us to reconfigure the conveyor quickly and easily."
Muskegon, MI (PRWEB) October 11, 2011
In an industry that changes rapidly, the food movement toward sustainability promises to exponentially increase the need for food processors to trim production costs. With a history of responding to industry needs, Dynamic Conveyor Corp., innovator of light-duty portable conveyors, is expanding its presence in the food industry with its new line of DynaClean custom food conveyor systems that promise to enhance food manufacturers' ability to repurpose, rather than replace, essential conveyors.
Dynamic Conveyor food grade modular conveyors for packaging have been employed in food manufacturing plants, including dairy, confection, bakery, condiments, and food vending products, for many years. However, the new DynaClean line is engineered from the bottom up to fulfill a need for custom food conveyor systems that are reconfigurable.
"Many of our new products are developed based on customer need. Customers like the flexibility, and lower overall costs that our reconfigurable conveyor technology provides and they want more," says Jill Batka, President of Dynamic Conveyor. "It doesn't get any better than that."
The new DynaClean line of custom food conveyor systems, designed and built to meet NSF, FDA, USDA, and BISCC standards, are fabricated with stainless steel and heavy-duty plastic segments. Segments are engineered to quickly connect with each other, making it ideal for use in the rapidly changing food industry.
One of the most coveted technological advances in Dynamic Conveyor's sustainable arsenal is its incline conveyor. Although the new DynaClean food processing conveyor line is custom built with straight segments up to 10 feet long, Batka says, "the angle segments will always be separate. If the customer wants to remove that angle and replace it with a different angle or remove it to connect their straight pieces, they can."
Like many organic and healthy food manufacturers facing exponential growth, Joseph's Lite Cookies, producer of low-carb, sugar free cookies, needed to maximize productivity. One solution was reconfiguring its food grade modular conveyors for packaging from Dynamic Conveyor to run at an uphill angle, and incorporate flights on the belt. "The DynaCon system is flexible," says Javier Reyes, Joseph's plant manager. Its "unique attributes allow us to reconfigure the conveyor quickly and easily."
The unique attributes of flexibility and sustainability delivered by Dynamic Conveyor carry over into the new DynaClean food processing conveyor line. "It is our mission to engineer products that are sustainable. It is our niche," says Batka.
In addition to creating a system that allows manufactures to easily repurpose conveyor segments, the company also considered the reduction of cleaning time, and therefore, water or detergents, such as sodium hydroxide or hydrocholoric acid, used during clean up.
DynaClean custom food conveyor systems utilize belt lifters that can be placed anywhere, ensuring easy cleaning without tools or belt removal.
Even the hygienic, maintenance-free, energy efficient, hermetically sealed drum motor with smooth stainless steel finish, was carefully selected for easy cleaning.
"Every part of the conveyor, down to the color, was selected specifically for food industry needs," says Batka.
To learn more about DynaClean custom food conveyor systems, contact Dynamic Conveyor Corporation, 5980 Grand Haven Road, Muskegon, MI 49441; phone (800) 640-6850; fax (231) 798-9583; or visit the web site http://www.dynamicconveyor.com.
###