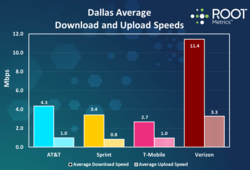 Bellevue, Wash. (PRWEB) October 10, 2011
RootMetrics™, the first independent service to measure mobile experience from a consumer's point of view, announced today the latest Dallas RootScore™ Report and corresponding RootScore Awards. This is RootMetrics' second visit to the Dallas market, having previously tested the area in March 2011. This comprehensive new report analyzes results from more than 39,000 real-world data, call and text tests and ranks Sprint, T-Mobile, AT&T and Verizon on their performance. The data reveals which carrier provided the fastest data network (Verizon), shows that all four carriers deliver about equal call performance, and clearly shows T-Mobile as the carrier with the fastest text service. Due to the strong showing in both data and call tests, Verizon's LTE network received the highest combined score of 86.8 out of a possible 100. There was a statistical tie for second place between AT&T (55.1) and T-Mobile (53.3). Sprint, which previously held the highest score in the March report, recorded the lowest score among all four carriers (45.8).
There were notable differences between the October and March reports. In particular, this time RootMetrics was able to test Verizon's LTE network, test AT&T's network with an HSPA+ 21 phone, test upload speeds after AT&T's firmware patch for HSUPA and test T-Mobile's network with a device capable of greater upload speeds. Both Verizon and AT&T showed marked improvements in data speeds.
"It was important for us to return to Dallas to experience the impact of the recent network upgrades and changes in device availability," said Bill Moore, CEO of RootMetrics. "In Dallas – and every location we visit – we're working to provide consumers with a true picture of the major carriers' performance. Our results show that carrier performance varies – and changes and upgrades can positively or negatively impact your mobile experience. The information from our reports empowers consumers to make better decisions about the best carrier for their mobile habits."
Which Carrier Performed Best in Dallas?
To evaluate the Dallas area, RootMetrics conducted more than 39,000 call, data and text tests during a seven day period, covering all hours of the day and night, from September 8- 14, 2011. The real-world tests were conducted using the RootMetrics RootScore app running off-the-shelf Android-based consumer smartphones from carriers' stores. Tests centered on activities that consumers perform most often: making phone calls, uploading and downloading files from the Internet, and sending and receiving texts.

Data Performance: The RootMetrics data performance tests analyze how fast each carrier's network was able to download and upload files, and how often a customer could successfully connect to the data network. All of the carriers showed improvement in average download and upload speeds in the latest round of testing. Verizon's LTE network offered the fastest average and maximum speeds for both downloading and uploading data. Verizon's maximum download speed of 47.9 Mbps was especially high, marking the second fastest speed RootMetrics has ever recorded. AT&T's average download speed was the fastest RootMetrics has recorded to date.
Since the last Dallas RootScore Report in March, Verizon showed the most improvement, recording average download speeds that were nearly 15x faster and average upload speeds that were more than 6x faster than during previous Dallas tests.
AT&T offered the most reliable data service, recording a failure in only 2.4 percent of RootMetrics' tests. Sprint was the least reliable carrier for transferring data, recording a failure in over 10 percent of the tests.
Call Performance: When it comes to call performance in Dallas, all four carriers delivered statistically equal performances, resulting in a draw.
Text Performance: RootMetrics performed a series of tests to determine how long it takes to send or receive a text message (SMS) from each carrier. Similar to the last RootScore Report, T-Mobile placed first in the texting category. The carrier has been first in every market RootMetrics has tested in 2011. T-Mobile recorded the highest percentage of texts delivered within 10 seconds and the lowest percentage of texts delivered in over one minute. Verizon recorded the slowest median text delivery time overall and the second slowest time for delivering a text to a phone within a carrier's own network.
Overall: Due to the strong results on Verizon's LTE network for data and call performance, it is the recipient of the RootScore Award – Combined for Dallas. The final results are:
1 – Verizon (86.8)
2 – AT&T (55.1)
2 – T-Mobile (53.3)
4 – Sprint (45.8)
The Dallas RootScore Report is the latest in an ongoing series of performance measurement reports and corresponding RootScore Awards from RootMetrics. Earlier reports covered Seattle; Dallas; Washington, D.C.; Miami; Chicago; Houston; Los Angeles; Atlanta; Boston; New York; San Francisco; San Jose; Philadelphia; Denver; Minneapolis; Phoenix; St. Louis; Buffalo, New York; Portland; Riverside-San Bernadino, Calif.; Virginia Beach, Va.; Pittsburgh; Sacramento, Calif; Kansas City; Cincinnati, and Cleveland. The company will continue to publish additional reports on U.S. wireless markets to help consumers make better decisions about the right carrier for their individual needs.
Consumers who are interested to see how their network coverage measures up can download the free RootMetrics Cell Phone Coverage Map App for iPhone or Android devices.
Mobile performance varies depending on where people live, work or otherwise spend time.
The results of this report combined with the geographical coverage maps at http://www.rootmetrics.com and via the Cell Phone Coverage Map Apps allow people to make better decisions about the right carrier for their individual needs.
About RootMetrics™
Bellevue, Washington-based RootMetrics is building a movement to create a more open mobile market that democratizes mobile performance data. Deploying a sophisticated smartphone application, RootMetrics partners with consumers to collect network signal strength and data throughput speeds, aggregating collected metrics into easy-to-understand maps that rate each carrier's performance. This comparative data provides transparency into comparative carrier performance down to the most granular levels. For more information, please visit http://www.rootmetrics.com.
###