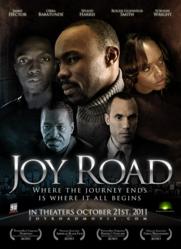 "JOY ROAD's theme of the price that must be paid when a family is divided - is universal." - Actor, Wood Harris
Detroit, Michigan (PRWEB) October 12, 2011
Hearts and minds around the United States stood still when Troy Davis was executed on Sept. 21, 2011. For many African Americans, the story was heartbreaking but not surprising; the American justice system has made many an enemy in the black community.
But, a new film asks hard questions of that same community. What happens when there is no one else to blame but us?
This urban street drama, JOY ROAD, stars Wood Harris, star of the critically-acclaimed television drama "The Wire," as a defense attorney forced to take on a client that he doesn't want, his sister's thug boyfriend, Big Boy who stands accused of murder. Played cleverly by rapper, Christian "Trick Trick" Mathis, Big Boy challenges everything that Harris' character, Tony Small, thinks about himself, his comfortable middle class life, and the rough neighborhood that he left behind.
"JOY ROAD. Is one of the most important films of these times with the many layered messages vital to the future of African Americans." -Director, Harry Davis
JOY ROAD. Opens our eyes to today's private prison structure, where global corporations operate prisons for profit. How far might they go to make their prison business a success? JOY RD. explores this question and offers a plausible but unsettling scenario. Today, with African-Americans making up a disproportionate share of the prison population, JOY RD., is indeed food for thought.
JOY ROAD will premiere on Thursday, October 20, 2011 at the Star Theatre in Southfield, MI, followed by October 21, 2011 openings in selected cities ( Detroit, Chicago, Atlanta, DC, Philadelphia, Cleveland and St. Louis).
JOY ROAD. Was a winner at the Martha's Vineyard African American Film Festival, The Hamptons' Black International Film Festival, was selected as one of Blackvoices.com, "5 Films to See in 2011."
"JOY ROAD's theme of the price that must be paid when a family is divided - is universal." - Actor, Wood Harris
Movie Premiere:
October 20th, 2011
AMC Star Southfield
Southfield, Michigan
25333 West 12 Mile Rd.
Southfield, MI 48034
8pm est
October 21st Release Locations:
Detroit Location:
AMC Fairlane
18900 Michigan Avenue
Dearborn, MI 48126
Atlanta Location:
Regal Hollywood Stadium 24
3265 Northeast Expressway
Chamblee, GA 30341-5348
St. Louis Location:
Regal St. Louis Mills Stadium
5555 St.Louis Mills Boulevard #525
Hazelwood, MO 63042
Philadelphia Location:
Review Plaza Stadium
1400 South Christopher Columbus Boulevard
Philadelphia, PA 19147-5526
Chicago Location:
AMC Loews Country Club
4201 West 167th Street
Country Club Hills, IL 60478
Washington DC Location:
Regal Majestic 20
900 Ellsworth Drive
Silver Spring, MD 20910
Cleveland Location:
Richmond Town Center Stadium
631 Richmond Road
Richmond Heights, OH 44143
###