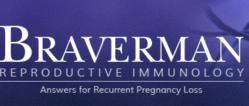 Treatment for Multiple Miscarriages.
(PRWEB) October 10, 2011
Dr. Braverman and his staff are dedicated to helping individuals located nationally and internationally who have tried to have children but have experienced failed pregnancies and multiple miscarriages. To reach more clients in need of their services, the practice teamed up with the superb design and management company Scorpion Design. The company designs websites for professionals who wish to increase their client volume and client contacts online and in the community. The marketing strategy includes targeting a specific audience in certain geographic areas. The websites are user-friendly and informative and helps provide a contact resource for the clients.
In an independent poll conducted by the Long Island Press, the clinic was voted as the best infertility practice on Long Island for the past 3 years. Dr. Braverman has served as the director of reproductive immunology at Wyckoff Hospital. They are the only practice authorized to use the name reproductive immunology in New York State and have provided proof of expertise to the New York State Department of Education. Couples who have tried other means to become pregnant and after numerous unsuccessful tries that result in multiple miscarriages, they turn to the practice for assistance. The doctor can treat anyone worldwide or locally, either in the clinic or through Skyping when not physically present.
The first step is a conference with the client located anywhere in the world and the gathering of relevant information, the doctor then meets with his staff and formulates a plan for the client. Next, he reviews the plan with the client and answers any questions, and then proceeds with the remaining steps that allow the woman to become pregnant and receive medical guidance from her doctor, including follow up visits and sonograms. The practice is unique in its ability to help clients achieve their desired results.
Contact Braverman Reproductive Immunology for treatment and resolution to the inability to have children and the experiencing of multiple miscarriages.
###