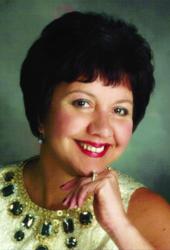 We're in no hurry, enjoying the appetizers and having a swell time, when the Feds show.
Louie Morelli in Blog:
Andrea's, September 22, 2011
Detroit, Michigan (PRWEB) October 11, 2011
Louie Morelli calls a meet with his partners in crime, and they gather at a table in the stylish Tramonti Italian Ristorante in Delray Beach. He plots murder over calamari fritti and Chinati Classico Riserva. Or, as he did in Ms. Bellomo's first novel, Stella di Mare, Louie meets his sinister contract killer, Nathan Roth, at the popular Deerfield Beach eatery, Bob Amante's Restaurant. Amante's is a family place with a nice local crowd, and Louie fits right in.
Sometimes it's dinner on the deck of Louie's eighty-foot Hatteras, the Stella di Mare, and the beverage of choice might be Pinot Grigio or even Famous Grouse (Louie's preferred brand of liquor), but the fare is always five-star. Served by fawning waiters or his devoted pal, Victor, the meals also highlight the author's Italian-American heritage. "I don't make conscious choices about my character's likes and dislikes," says the crime thriller author. "They have their own identities, but I do share Louie's love of good food."
La Dolce Vita, the Italian's call it; the sweet life. Louie Morelli's got style and taste, and the money to pay for it. In Patricia Bellomo's blog—written in Louie Morelli's voice—anecdotes frequently occur in happening hotspots, such as in Happy Hour at Shooters, or more recently, Showdown at the Greek Isles. In Breakfast at the Breakers, Louie's meeting a New Jersey gent at the landmark hotel.
While Patricia Bellomo's novels and blogs are primarily set in South Florida, there are exceptions. Louie Morelli's hometown is New Orleans, and a portion of Louie Morelli's Daughter takes place in the Big Easy. Thus, the title of a recent blog, Andrea's, refers to Andrea Apuzzo's restaurant in Metairie. Again, it's business for Louie and the boys, with the Feds at a nearby table.
Incidentally, Patricia Bellomo claims to have dined at all of the restaurants named in her books and blog, and is acquainted with staff and owners at many of the eateries. She lives in the Detroit area, but winters in Delray Beach. Ms. Bellomo's books include Stella di Mare and the recently released Louie Morelli's Daughter.
Patricia Bellomo has appeared on Dr. Marlene Siersema's "Amazing Women, Brains, Beauty, and Style" on Voice America-World Talk Radio, as well as on Conversations with Peter Solomon in Philadelphia. Ms. Bellomo has been a guest on the Larry Whitler Show in Ocala, Tron Simpson in the Morning in Colorado Springs, The Kim Pagano Show in Los Angeles, and on the Chris Oaks Morning Show in Toledo.
The author's books are on sale at Amazon.com, all on-line retailers and major booksellers, and can be purchased through Patricia Bellomo's website. Kindle and ebook versions are also available, and short-stories can be downloaded for a small fee. For free entertainment visit Louie's blog on Patricia Bellomo's website.
###