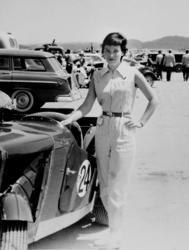 "The outpouring of worldwide bidding was truly a sign of the respect and admiration for Suzy's accomplishments" said John Farkas, Auctioneer.
Wellington, Ohio (PRWEB) October 12, 2011
Fans and collectors from around the world participated in the recent auction featuring the private collection of the memorabilia of female racing legend, Suzy Dietrich. While her name may not have been previously well known to those outside of the automobile racing world, the successful auction of her impressive collection demonstrated the world wide appreciation and respect for her accomplishments.
The live auction was held at Antiques and Estate Auctioneers on Sunday, October 9th at 44777 St. Rt. 18 E. Wellington, OH 44090, and included online bidders from the U.S., Germany, France, Hong Kong, Belgium, Canada and the U.K. "The outpouring of world wide bidding was truly a sign of the respect and admiration for Suzy's accomplishments" said John Farkas, Auctioneer.
The bidders determined the winner, and highest priced lot of the auction to be Lot 147 which featured a 22" x 17" silkscreen poster by Zito Ferrari of the 12 Hours of Sebring for the Amoco Trophy, March 25-26, 1960. After spirited bidding, the brilliantly colored poster resulted in a hammer price of $1,534.00, including buyer's premium.
Buyers also were quite interested in Lot 24, which was a extremely rare commendation to Suzy Dietrich from Porsche Corporate headquarters. The item consisted of a figural Porsche on a weighted base, with a plaque which translated from the German, is "Thanks for Sporting Achievement", which raced to a hammer price of $1,416.00.
Coming in at third place, was Lot 46, which contained an impressive collection of photographic negatives and contact sheets featuring garage and racing shots of well known racers such as Gurney, Revson, Ferrari and Moss, and resulted in a hammer price of $1,298.00.
Bidders were also impressed with Lot 95, which was a rare event poster from Suzy's favorite racing venue, Watkins Glen. The poster was from the very first "Grand Prix of the United States for Formula One World Championship of Drivers & Manufacturers Championship Cup", October 6-8, 1961, with no paste-over. The spirited bidding resulted in a final hammer price of $1,180.00.
In addition to introducing a whole new generation of fans to her accomplishments, and helping collectors all over the world to add to their own collections, the success of the auction will help to defray expenses for Suzy's continuing health care.
For further information regarding this auction and the upcoming second Dietrich Racing Auction, please contact John Farkas, Auctioneer 440-647-4007 or email info(at)estateauctioneers(dot)com
###