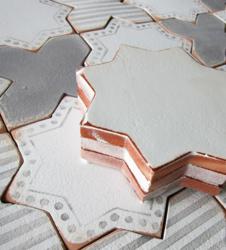 Design trends are moving towards brighter and lively colors as well as towards more neutral and softer shades.
Scottsdale, AZ (PRWEB) October 12, 2011
Always one step ahead of new design trends in decorative tiles, Tabarka Studio is proud to announce the release of a new True White shade called Lavan. Already with an extensive catalog of beautifully hand-crafted tile patterns and shapes, this new color will elevate their existing designs to new levels of artistic expression and visual excitement opening the doors to a bigger audience.
"Our traditionally antiqued colors helped add to the aged look we were trying to evoke, kind of taking you back in time. With the new true white we are offering designers the option of taking a different path when working with our tiles and allowing them to create a bolder statement, perfect for any contemporary setting" says Meir Zenati, owner of Tabarka Studio. "We think many of our patterns look just brilliant with this new color. It creates the perfect transition for old world designs to take new life in ultramodern decor."
The essence of Lavan is a true white base color which can be used on any of Tabarka Studio's more than 40 sizes and shapes, including their new dimensional field collection, Noblesse Oblige. Additionally, the new shade can be used as a background color for any of their patterns. Most of their tiles remain distressed at the edges, so they still have their signature look. The new color scheme will still be an eye-opener for those familiar with Tabarka Studio's traditional decorative tiles.
"Design trends are moving towards brighter and lively colors as well as towards more neutral and softer shades," says Zenati. "Lavan appeals to both aspects."
About Tabarka Studio:
Tabarka Studio is a designer, manufacturer, and wholesaler of hand-crafted decorative ceramic tiles based in Scottsdale, AZ. Originally founded in 2000, the company has transitioned from its origins as a furniture and pottery maker, and adapted their unique glazing process to a full range of terra cotta tiles. Their traditional Mediterranean flavor and highly customizable tiles exude warmth and charm wherever they are installed. Their tiles are a popular choice for kitchen backsplash tiles, bathroom tiles, wall tiles, and can be found in fine tile showrooms across the United States and the UK.
###