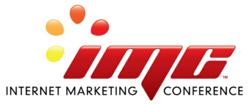 New York, NY (PRWEB) October 11, 2011
Internet Marketing plays a crucial role in growing today's businesses. Get the entire team up to speed on the latest techniques and technologies: Industry leaders reveal the tips, tricks and traps of online marketing at the Internet Marketing Conference (IMC), produced by Rising Media Inc., October 19-21, 2011.
Internet Marketing Conference (IMC) sessions--3 full days with more than 50 sessions across 9 tracks--allows attendees to take home practical, tactical advice they can apply immediately. Through indepth sessions, organizations will learn how improve its ability to manage multiple campaigns across multiple platforms, determine if online marketing is paying off, align online marketing with overall business goals, plan for a 2012 online marketing strategy, and find methods for reporting ROI.
Tracks include Introduction to Online Marketing, Online Marketing Design, Email Marketing
Online Advertising, Search Marketing, Social Media Marketing, Unconventional Online Marketing, Continuous Improvement, and Managing Web Marketing.
Get the team trained right from the start or reinforce their understanding of the fundamentals of social media, video and mobile marketing practices while staying on top of the latest developments with sessions such as: Content-Centric Marketing, Monitoring Social Media, Designing for Mobile & Tablets, The Laws of Email Deliverability, Testing Email Campaigns, Behavioral Targeting & Remarketing, Hyper-Targeting on Facebook & LinkedIn, Search Analytics, In-Game Marketing, Segmentation & Personalization, Online Marketing, and Management & Governance.
The more team members that attend IMC, the more the company saves. Each additional attendee from the same company registered at the same time receives an extra $200 off the price of their registration. Register today.
Come to the Internet Marketing Conference in New York City where the brightest minds in the industry, such as Amy Africa, Jeff Greenfield, Chris O'Hara, Kevin Buerger, Alhan Keser and Dixon Jones, deliver fresh insight and answer your questions about your online campaigns.
The digital eco-system has expanded across multiple platforms through multiple devices putting pressure on marketers to show return on the marketing spend. IMC's agenda provides comprehensive, intensive, and conclusive training giving attendees the skills needed to survive in today's digital world.
Internet Marketing Conference is co-located with eMetrics Marketing Optimization Summit, Predictive Analytics World, Text Analytics World, GAUGE and Conversion Conference.
About Rising Media
Rising Media is a global events producer excelling in Internet and technology-related conferences and exhibitions. Rising Media produced events include Data Driven Business Week, eMetrics Marketing Optimization Summit, Conversion Conference, GAUGE, Predictive Analytics World, Text Analytics World, Building Business Capability, Internet Marketing Conference, Social Media Economy Days, Web Effectiveness Conference and Search Marketing Expo in the US, Canada, UK, France, Germany, Sweden, Finland and Australia.
Rising Media events provide cutting-edge, practical knowledge for business professionals to improve their day-to-day effectiveness, driving higher returns for their organizations. Attendees learn from leading experts and share knowledge with each other, as well as interacting with innovative vendors in the space. Each event brings together the best, the brightest and the visionary, creating a forum for insight, energetic exchange and informed purchasing.
###