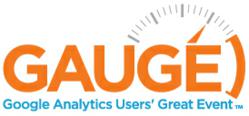 "Google Analytics knowledge and expertise has become the most sought after and asked for skill set for organizations looking to expand and hire" says Stéphane Hamel, Director, Strategic Services, Cardinal Path
New York, NY (PRWEB) October 11, 2011
Learn the latest Google Analytics techniques from the most respected industry experts and learn practical skills that can be put to use immediately at the Google Analytics Users' Great Event (GAUGE), produced by Rising Media, October 17-18, 2011, New York, NY
Keynoters Phil Mui of Google, Stéphane Hamel at Cardinal Path (Myth Busting Google Analytics) and Piyanka Jain of Aryng.com (Web Analytics: "Data to Decisions") will be joined by session presenters, Feras Alhlou of E-Nor, Alex Langshur of Cardinal Path, Corey Koberg and Justin Cutroni, of WebShare and Caleb Whitmore of Analytics Pros. Nowhere else have so many Google Analytics industry leaders gathered under one roof.
"Google Analytics knowledge and expertise has become the most sought after and asked for skill set for organizations looking to expand and hire," says Stéphane Hamel, Director, Strategic Services, Cardinal Path "GAUGE uniquely offers the hands-on training and insight into Google Analytics provided by the most respected industry experts all under one roof."
GAUGE will cover everything attendees need to know about Google Analytics (GA) from setup and implementation, to tips on developing strategy to search and social media, segmentation, marketing and content analysis, and principles, best practices, and how-tos for setting up and using Goals in GA.
Check out the complete GAUGE agenda. http://gaugecon.com/register/
Don't miss the session from the Analytics team at Google that will provide a unique opportunity to hear about what's new with Google Analytics right from the source, and ask the team questions about the product.
GAUGE immediately precedes eMetrics Marketing Optimization Summit, co-located with Predictive Analytics World, Text Analytics World, Internet Marketing Conference and Conversion Conference also taking place at the Hilton New York.
Register now and unite with GA users of all levels in New York City.
About Rising Media
Rising Media is a global events producer excelling in Internet and technology-related conferences and exhibitions. Rising Media produced events include Data Driven Business Week, eMetrics Marketing Optimization Summit, Conversion Conference, GAUGE, Predictive Analytics World, Text Analytics World, Building Business Capability, Internet Marketing Conference, Social Media Economy Days, Web Effectiveness Conference and Search Marketing Expo in the US, Canada, UK, France, Germany, Sweden, Finland and Australia.
Rising Media events provide cutting-edge, practical knowledge for business professionals to improve their day-to-day effectiveness, driving higher returns for their organizations. Attendees learn from leading experts and share knowledge with each other, as well as interacting with innovative vendors in the space. Each event brings together the best, the brightest and the visionary, creating a forum for insight, energetic exchange and informed purchasing.
###