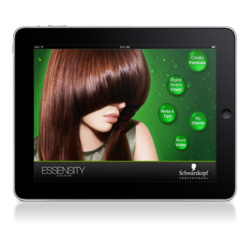 Ann Arbor, MI (PRWEB) October 12, 2011
Schwarzkopf Professional partnered once again with Logic Solutions to develop ESSENSITY for iPad and iPhone, the second release in a series of preeminent hair color mobile apps.
Much like their hit System Educator app for the IGORA and COLOR 10 product lines, the ESSENSITY apps provide users the ability to instantly access and save thousands of formulas (based on simple target color, application, and natural hair selections), and view product Hints and Tips with the tap of a fingertip. Unlike imposter apps, each formula has been directly tested and approved by Schwarzkopf.
The ESSENSITY apps also include new and exciting functionality, such as an interactive strand chart that displays all target colors in the ESSENSITY lines with a true-to-color visual hair strand. Once a user selects a target color from this screen, he/she immediately accesses the final step in the formula creation process.
Another added feature for Schwarzkopf's sales force is the impressive ESSENSITY mood video. Since the video is downloaded as an intrinsic part of the apps, there is no need to rely on YouTube or an internet connection for viewing. In fact, once downloaded from the App Store, all components of the applications are entirely functional without internet connectivity.
Because it is intended to satisfy the unique needs of Schwarzkopf's education and sales teams, as well as stylists using ESSENSITY coloring products, the app as visually stunning as it is functional. Logic's creative team designed a chic user interface that represents ESSENSITY's environmental philosophy, complete with striking graphics and unique water droplet animation on each screen.
ESSENSITY apps are free and available on the App Store. Schwarzkopf intends to release the apps on the Android platform in early 2012.
About Logic Solutions
Founded in 1995, Logic Solutions, Inc. is a privately held minority-owned corporation with headquarters in Ann Arbor, Michigan, and offices in Irvine, Hong Kong, Shanghai, Beijing, and Nanjing. Logic provides technology solutions and services, including custom mobile strategy and application development, web applications, and comprehensive websites for businesses across the United States.
Logic's mobile development expertise is evidenced by its impressive portfolio of technologically sophisticated B2B apps developed for companies in a wide array of diverse industries. Specializing in apps that streamline sales force processes, Logic has also launched Showcase, a mobile catalog app with an integrated Content Management System back end. Showcase is more than an app, it's a sales revolution.
More information is available at http://www.logicsolutions.com and http://www.showcaseforipad.com.
About Schwarzkopf Professional
An innovator in hair care products, Schwarzkopf Professional has been pioneering the development of ground-breaking products for over a century. Schwarzkopf Professional is distributed in more than 100 countries and has global sales over $1 billion annually.
Schwarzkopf Professional's thorough research process involves scientists, dermatologists and hair designers – all of whom contribute to the development of product formulations. The time-tested, technically perfect products which emerge from the laboratories allow salon professionals to proceed with the complete confidence that they will always have the finest quality results.
Together we have a passion for hair. For more information please visit http://www.schwarzkopfusa.com.
###