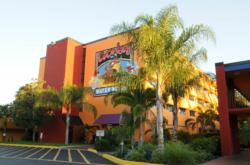 Orlando, Florida (PRWEB) October 12, 2011
The CoCo Key Hotel and Water Resort Orlando, located on 7400 International Drive, has announced a Facebook photo contest that will end October 31, 2011. Fans are encouraged to post photos of themselves and their family at the water resort to the wall of CoCo Key Orlando's Facebook page. After October 31, 2011, a panel of judges will choose their favorite photo and that winner will be awarded a three night stay in CoCo Key Orlando Hotel's Presidential Suite.
Rooms at CoCo Key Orlando hotel are furnished with all the amenities a family could need including a 37-inch high-definition TV, mini-refrigerator, digital safe, complimentary Wi-Fi and granite counter tops. The Presidential Suite has a conference/dining room area, living room, two bedrooms and three 37" flat screen televisions.
Also through October, the water park will be hosting CoCoWeen events to celebrate Halloween. Activities will be held every Saturday and Sunday and will include spooky crafts, making creepy cookies, haunted relays and more. Families can also take pictures of their children trick-or-treating with the CoCoWeen bag to receive a $2.00 off coupon valid through the month of November.
To view photos and add your own on CoCo Key Orlando's Facebook page, visit http://www.Facebook.com/CCKOrlando and to learn more about the CoCoWeen promotion visit, http://www.cocokeyorlando.com/deals-packages-2/special-packages/.
About the CoCo Key Hotel and Water Resort – Orlando:
The CoCo Key Hotel and Water Resort comes fully equipped for a fantastic vacation. Hotel stays include complimentary parking, transportation to select area theme parks, heated pools, wireless high-speed internet access and three dining options at Tradewinds Restaurant, Callaloo Grill and Pizza Hut. CoCo Key combines a casual "tropical" hotel setting with 391 guest rooms and an exciting water park that features slides, rides and fun. The park hosts three pools, 14 water slides, poolside entertainment, and splashing good times all specially designed for kids in a safe and friendly environment. The hotel offers 5,000 sq. ft. of meeting space for events of all kinds. Guests can book packages that include overnight stays and passes to the water resort for the ultimate hotel stay. To learn more about the CoCo Key Hotel and Water Resort – Orlando visit: http://www.cocokeyorlando.com.
###