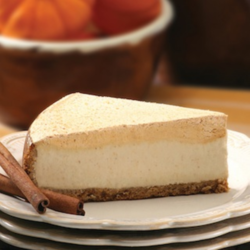 Pumpkin cheesecakes are available from Cheesecake.com only between October and December each year.
Alpharetta, GA (PRWEB) October 12, 2011
Today, Cheesecake.com announced its much anticipated event—the arrival of its pumpkin cheesecakes. For a limited time only, Cheesecake.com is accepting orders for this gourmet cheesecake, one of its most popular flavors for holiday dinners and special events. Also for a limited time, online customers can receive 10% off their cheesecake orders. Pumpkin cheesecakes are available from Cheesecake.com only between October and December each year.
When asked about the limited availability of this seasonal favorite, David Clements, co-founder and President of Cheesecake.com said, "We've found that, once autumn hits, people's thoughts turn to the upcoming holidays—Halloween, Thanksgiving, Christmas—and they start planning parties, buying gifts, etc. Pumpkin cheesecake is one of our top sellers, and our regular customers buy early, knowing that, once the holidays are done, so is the pumpkin cheesecake. Nobody wants a pumpkin cheesecake in January."
Associates at Cheesecake.com are prepared to handle the influx of online cheesecake orders they expect to receive. According to Clements, when he made this announcement last year, they sold thousands of pumpkin cheesecakes in the first week alone. "Our pumpkin cheesecakes are always a sell-out. People pre-order because they know this flavor is seasonal and they love it," says Clements. Businesses also purchase cheesecakes for clients and employees. The company's Corporate Gifts Department is available during normal business hours to arrange their orders.
Cheesecake.com was founded in Alpharetta, Georgia by David Clements and Harvey Kaplan. They consider it a one-stop shop for cheesecakes and other premium baked products which can be delivered to virtually any home or business address within the United States. Anyone interested in learning more about Cheesecake.com or placing an online order can visit their website at: http://www.Cheesecake.com or call their Customer Service center at 1-800-971-3711. Cheesecake.com customers can use coupon code YouSave10 to receive 10% off their entire order (excluding taxes and shipping charges).
###