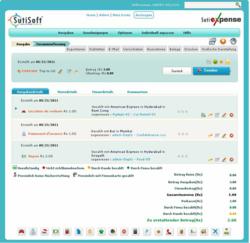 'The French, German, and Spanish versions of SutiExpense have opened the doors for SutiSoft to engage with global corporations and local small to medium size businesses (SMBs),' said N.D. Reddy, founder and CEO of SutiSoft Inc.
Los Altos, CA (PRWEB) October 12, 2011
SutiSoft Inc, a trusted provider of web hosted and enterprise solutions, today announced the release of a German version of SutiExpense, its automated expense management solution. The new release allows German speaking users to manage their expense reports anywhere, anytime and on any platform.
The easy to use web-based solution automates the entire expense management process, reduces processing and auditing costs, improves adherence to company policies, and significantly reduces reimbursement cycle times. It eliminates manual processing tasks, paperwork, and the time delays in processing expense reports manually.
How it works:
1. Create expense report.
2. Pull data from credit card/booking data feeds.
3. Add all receipts to the expense report.
4. Submit for approval.
5. Data feeds into accounting system.
SutiExpense is available in multiple versions: Small Business, Corporate, and Enterprise. Visit http://www.sutiexpense.com for more info. Pricing starts at $5.95 per month per user.
About SutiSoft Inc
SutiSoft Inc. is a privately held company founded by N.D. Reddy, a successful Entrepreneur with over 30 years of experience in both the Hardware and Software industry as a Founder, and CEO. The Company's leading edge enterprise/SaaS application software products range from business productivity solutions such as Electronic Signature, Expense Management, Document Control Systems, Governance, Risk and Compliance, Security Solutions and others. The company's products are developed using Java, Flex, AJAX, HTML5 and other cutting-edge technologies which allow SutiSoft to retain its core values which are Simple, Scalable, Secured, and Seamless. Headquartered in Los Altos, California USA, SutiSoft has offices in Northern California, India, Germany and Japan. Additional information is available at http://www.sutisoft.com.
# # #