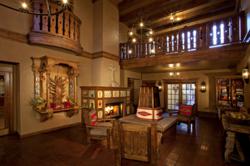 By partnering with the Chimayo community in this project, we hope to help inform visitors about the history and culture of Chimayo and to preserve the original community heritage for future generations
--Jim Long, Heritage Hotels & Resorts CEO
Santa Fe, NM (PRWEB) October 11, 2011
Heritage Hotels and Resorts has completed the renovation of the Hotel Plaza Real. The newly opened Hotel Chimayó de Santa Fe offers visitors a glimpse into the magical culture of Chimayó, a distinctive community in Northern New Mexico.
Chimayó is a historical agricultural community nestled in the foothills of the Sangre de Cristo mountains just 30 minutes North of Santa Fe. Founded in the 17th century as a traditional fortified central plaza, the close-knit community of Chimayó is centered around rich, time-honored artistic traditions, culinary customs, spiritual devotion and familial bonds.
The renovation began in August of 2011 when Heritage Hotels and Resorts CEO, Jim Long, began forming partnerships with Chimayo's community leaders and artists. Construction started in January, 2011 and completed in August 2011.
"Chimayo is such a special place with a unique story and history." Said, Jim Long, Heritage Hotels & Resorts CEO, "By partnering with the Chimayo community in this project, we hope to help inform visitors about the history and culture of Chimayo and to preserve the original community heritage for future generations."
A percentage of the hotel's room revenue profits will be donated to the Chimayó Cultural Preservation Association. This association works to preserve the culture of Chimayó by building an archive of historical photographs and documents, gathering oral histories, maintaining historic buildings and increasing community awareness of local history and culture.
Visitors to Hotel Chimayó will encounter a variety of custom authentic artwork. More than 70 artists from Chimayó contributed to the hotel's decor. Chimayó community members crafted 500 hand-made crosses from found materials to accent the fireplace mantels in each hotel room. Weavings designed and crafted by award-winning Chimayó artists adorn the lobby and hotel rooms.
The hotel features a new bar and restaurant. Low 'n Slow Lowrider Bar at the Hotel Chimayó de Santa Fe features authentic lowrider elements crafted by Chimayó specialists. Named after the book "Low 'n Slow – Lowriding in New Mexico" by Jack Parsons and Carmella Padilla, the bar is designed to capture the essence of the low-rider culture ― its exuberance, style and artistry. On the street outside the bar will be an exclusive "Lowrider Only" reserved parking space.
Tia's Cocina New Mexican Restauranté at Hotel Chimayó de Santa Fe features rustic village foods prepared by Santa Fe's renowned Chef Estevan Garcia in a family dining atmosphere. Heritage Hotels and Resorts has commissioned a Chimayo agricultural grower to produce the famous Chimayó chile, a small heirloom chile known for a distinctive robust flavor. (First chile crop of the fall 2011 is now available.)
Personalized guided and self-guided tours in Chimayo are featured here.
ABOUT HERITAGE HOTELS & RESORTS Heritage Hotels & Resorts offers a collection of culturally designed hotels in the southwest United States. Hotel Albuquerque at Old Town and Nativo Lodge are located in Albuquerque, NM, Hotel St. Francis, The Lodge at Santa Fe, and Hotel Chimayo de Santa Fe are located in Santa Fe, NM, Hotel Encanto is located in Las Cruces, NM and the golf resort, Esplendor Resort is located in Rio Rico, AZ.
Website: http://www.HotelChimayo.com
Press Kit: http://www.hhandr.com/documents/HotelChimayoPressKit.pdf
For media inquiries please contact:
Jennifer Hobson, JLH Media: 505-603-8643 or jennifer(at)jlhmedia(dot)com
###