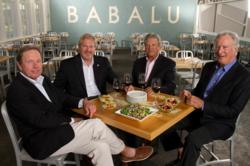 "Babalu allowed us to fill a void in the marketplace with something unique and exciting," said Latham.
Jackson, MS (PRWEB) October 13, 2011
Four restaurant industry veterans have joined together to form Babalu Development, LLC, a partnership created to promote the expansion of the Babalu Tacos and Tapas brand into new markets. The company will be managed by partners Ned Lidvall, Mike Stack, Bill Latham, and Al Roberts.
Babalu Tacos and Tapas was founded in Jackson, Mississippi, by restaurateurs Latham and Roberts, who together have a long history of successful restaurants. "Babalu allowed us to fill a void in the marketplace with something unique and exciting," said Latham. "We offer traditional made-from scratch tacos utilizing the freshest ingredients, such as fresh soft-shell crab, smoked pork belly, and herb roasted chicken." Adds Roberts, "Our guacamole is prepared tableside using select Haas avocados and other fresh ingredients. And we have a full-service bar, featuring Spanish and domestic wines, margaritas made with fresh-squeezed limes, premium mojitos, and other custom-crafted cocktails."
The restaurant's continued success began to attract attention through word of mouth, social media, and food bloggers. Recently, the two partners were approached by Mike Stack and Ned Lidvall to consider expansion plans. Their combined experience sealed the deal: Stack has more than 40 years of hospitality industry experience, including supervising the expansion of McAlister's Deli through a period of rapid growth. Lidvall offered extensive experience leading Rock Bottom Restaurants, Old Chicago Pizza & Pasta, Friendly Ice Cream Corp, and Brinker International's On The Border Café.
"Babalu Tacos and Tapas is well-positioned to capitalize on the growing interest in Latin American and Spanish style cuisine," said Stack. "Gourmet tacos are a hot niche right now. But I believe Babalu has real staying power because they're about more than just tacos or traditional Mexican food. It's a fun dining experience. People love the idea of tapas, because the small plates allow them to sample a wider variety of flavors."
The restaurant features a small footprint of less than 4,000 square feet, including a patio area for outdoor dining. "We will begin approaching investors immediately to secure capital for the initial phase of development," said Lidvall. "I believe this restaurant has all the key elements in place—a strong concept, an experienced team, and, most importantly, a fantastic menu that's unique, flavorful, and has broad appeal."
About Babalu Tacos and Tapas™
Babalu Tacos and Tapas is located in the historic Fondren District of Jackson, Mississippi. The restaurant offers specialty tacos and other small plates served in the Spanish tapas style featuring local and regional foods. To learn more about the restaurant concept and investment and franchise opportunities, call Mike Stack at (601) 214-5100 or Ned Lidvall at (303) 589-7410.
###