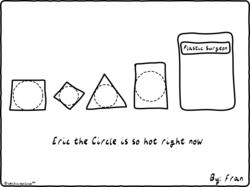 Sydney, NSW (PRWEB) October 12, 2011
The first draw-it-yourself cartoon, 'Eric the Circle' (or Eric), brings a new way of expressing and commentating on people's lives online, and from their iPhone, via a purpose build app; Eric iDraw. Eric was developed by combining a range of technologies to facilitate user generated content, content distribution and social networking.
Sometimes 140 characters just isn't enough and you need the help of a cartoon character to find a common language. Eric allows users to create, vote, comment on and share cartoons, using the character of Eric the Circle as a base, and aims to become a new medium for people to indulge their creativity and communication across issues, whilst being rewarded financially. Eric the Circle is so simple a child could use it, yet he's been embraced by users to discuss topics from the trivial to the taboo; from pop culture to the economy and even politics.
Once created, the cartoons can be personalised by other users, immortalised on merchandise, gifted and even sold, with 50% of the net profits from sales of merchandise divided up amongst successful creators.
In March last year the Beta test launched with 100 cartoons on the site. It quickly grew to over 1000 user generated cartoons in only a few months. That's a 10-fold increase and more than 10 cartoons being made daily with only $400 spent on promotion.
Eric's a very social circle, integrated with a range of technologies to facilitate sharing and encourage interaction amongst users and friends, making it simple to create and share 'Erics' across many social media platforms, including Facebook and Twitter.
And... Eric's got a lot of support. In fact he's backed via media and distribution partnerships, including; PayPal, mX, Andrews McMeel Universal (the world's largest cartoon syndicator), Channel [V] and Nova. Development of the web services and an iPhone application has been carried out by Polonious Pty Ltd (http://www.polonious.com.au).
Eric is a very social circle and you can find him in many places. If you're:

Eric the Circle is a collaboration brought to you by an alliance of Australian entrepreneurs:
Scott Callaghan – CEO, Eric the Circle (http://www.ericthecircle.com)
Shane Houstein – Digital Director, Eric the Circle
Simon Rutherford - Media Strategy and Partnerships, Slingshot Media Ventures (http://www.slingshotmedia.com.au)
Kerryn Callaghan – Director of Operations, Eric the Circle
Jeff Cooper - Launch Communications, Step Change Marketing (http://www.stepchangemarketing.com)
Polonious Pty Ltd – Web services and iPhone application development (http://www.polonious.com.au)
Media Contact: Jeff Cooper, General Manager, Step Change Marketing
Email: jeff(at)stepchangemarketing(dot)com
Phone: +61 415 954 062
###