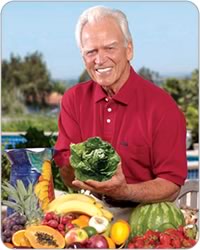 Drinking fresh fruit and vegetable juices can prevent ailments and it is an effective, easy way to achieve a long and healthy life.
Seattle, Washington (PRWEB) October 11, 2011
DNA Response, Inc., a provider of multi-channel e-commerce, marketing and order management solutions, announced today that it has launched JuiceForLife.net, an online store that will sell juicers designed by Jay Kordich, also known as the father of juicing.
"We partnered with DNA Response to streamline our order fulfillment process and offer great perks like free shipping and easy check-out powered by Amazon. We are thrilled that Jay Kordich himself is taking a lead on launching an educational campaign about the juicing lifestyle and the health benefits of juicing", said Rick Cesari, President of Live Foods Live Bodies, a marketer of Jay Kordich Juicers and nutritional products.
"I truly believe that drinking fresh fruit and vegetable juices can prevent ailments and it is an effective, easy way to achieve a long and healthy life. Our consumers deserve the best shopping experience and customer service while ordering our products and DNA Response provides such experience," said Jay Kordich.
Jay Kordich is considered to be the father of vegetable and fruit juicing. He has experienced firsthand the benefits of fresh juices. After he was diagnosed with bladder cancer, he began consuming large amounts of raw carrot and apple juice. His health drastically improved and he developed a new view on dieting and nutrition. He began teaching others the importance of a healthy diet, including fruit juices. Today, Kordich, an energetic 88-year old, says his secret to leading a long and healthy life is thanks to the power of fresh juicing.
The new Juice for Life on-line store offers three juicers: the Original Juice Daddy Juicer, the Deluxe 2-in-1 juicer-blender and the acclaimed new PowerGrind Pro Juicer, which can even make nut milk, like almond milk. These products are convenient, easy-to-use and simple to clean. They can be used to juice both hard and soft fruits and vegetables, creating delicious and nutritional drinks.
These products also come with a comprehensive one-year replacement warranty, as well as some of Jay's personal juice and smoothie recipes. Jay and his wife Linda have combined their 90 years of nutrition experience and share all their knowledge in a 240-page hard cover, full color book. Consumers can purchase the book, "The Live Foods Live Bodies Program," which is designed to help you live longer and live better. The set also includes two DVDs and five CDs, covering topics from the power of greens to how to live to be 100 years old. It's a complete nutrition seminar in one convenient package.
"We are excited to work with "The Father of Juicing," Jay Kordich, and help the company expand its market share through DNA's state-of-the-art e-Commerce, order management technology, and robust online marketing program," said Ranjit Mulgaonkar, CEO and president of DNA Response. "Jay's mission of educating people about healthy lifestyle choices and the power of juicing resonates with our team's beliefs and goals of partnering with companies that manufacture useful products, that offer value to consumers and preserve the natural balance".
About DNA Response:
DNA Response, Inc. (DNA) provides turnkey e-commerce, online marketing, and order management services to companies in the $300 Billion direct response market. DNA clients sell products direct to consumers using TV, radio, print catalogs, web and mobile as their sales channels. DNA's ECOM2TM platform utilizes state-of-the art cloud computing technologies and services to improve operational efficiency by reducing transaction costs, eliminating credit card declines, and lowering order cancellations and product returns, while simultaneously increasing online revenue for our clients. DNA provides universal order management for processing orders in real time from all the sales channels with full visibility to the business for the clients. DNA generates incremental revenues and helps build a brand for our clients by providing comprehensive e-commerce and online marketing services.
About Live Foods Live Bodies:
Our mission is to help people live a longer and healthier life by consuming more fresh fruits and vegetables. Juicing is a simple way to get the benefits of these natural foods into your body. We provide the products and information to help people get started on their path to living a longer, healthier, disease-free life.
# # #