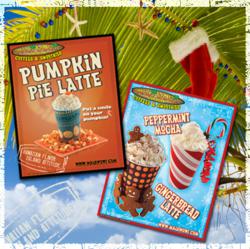 "Pumpkin Pie Latte is absolutely my favorite--it is so smooth and delicious, the smell makes me think of the fall and how much I love the holidays!"
~Michelle H.
Greenwood Village, CO (PRWEB) October 12, 2011
With the seasons changing and the holidays just around the corner, Maui Wowi Hawaiian, has created three unique limited time offers for holiday shoppers and coffee enthusiasts available now through January 1, 2012. Spice up your taste buds this holiday season with Maui Wowi Hawaiian's Pumpkin Pie Latte, Gingerbread Latte, and Peppermint Mocha.
Using only premium gourmet Hawaiian coffee and the highest quality ingredients, Maui Wowi Hawaiian has specially formulated each unique recipe to guarantee the highest industry standards are in every cup.
Currently, Pumpkin Pie Latte is available at Maui Wowi Hawaiian retail stores and kiosks across North America. Back by popular demand, Gingerbread Latte and Peppermint Mocha will be available starting November 1, 2011.
"Maui Wowi Hawaiian has created an amazing seasonal gourmet coffee line-up that won't break holiday shopper's budgets. Coffee aficionados will delight in drinking the coveted and prized Kona coffee, the superior richness, and silkiness of these unique coffee drinks," said Tommy Thwaites, President/Master Roaster CODA Coffee.
With the increase in holiday catering and events during this time of year, Maui Wowi has found an opportunity for our event operators to offer the same delicious tasting treats out in the field. "We wanted to spice up the holidays and create something special for those who are attending events or who are interested in having Maui Wowi cater their holiday party. By offering holiday flavored iced coffees we hope to give customers a truly memorable Maui Wowi experience" said Holli Gallaher, Director of Operations at Maui Wowi Hawaiian.
Whether you are celebrating the holiday this season in the mountains of Colorado or on the beaches of Hawaii, Maui Wowi Hawaiian has you covered. Our seasonal drinks are sure to delight and make this holiday season a memorable one. To find a Maui Wowi location near you or to have your holiday events catered please visit http://www.mauiwowi.com or call: 1-877-849-6992.
About Maui Wowi Hawaiian Coffees & Smoothies:
Before the days of big Hawaiian resort hotels and fiberglass surfboards, surfers spent long, lazy days partaking in the tasty waves of the North Shore beaches. As the legends of the surfers grew, many were drawn to the healthy, carefree lifestyle of Hawaii. Since 1982, Maui Wowi Hawaiian has been spreading the 'Aloha Spirit' across the world with its premium Hawaiian coffees, all-natural fresh fruit smoothies and authentic Hawaiian products. From event carts, mall kiosks and stand-alone retail locations, Maui Wowi Hawaiian operates 575 locations worldwide. For more information about Maui Wowi Hawaiian's flexible, low cost franchising opportunities, visit http://www.mauiwowifranchising.com
###