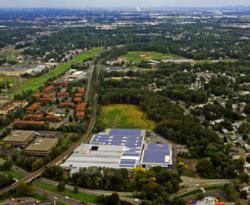 Novato, CA (PRWEB) October 11, 2011
SPG Solar announced today that it has completed a 1 Megawatt DC solar power system for solar developer STC Solar in Woodbridge, New Jersey. The solar system, consisting of more than 3,600 solar panels, was installed on the roof-top of Kessler Sales & Distribution warehouse under a Power Purchase Agreement (PPA) that STC Solar entered into with Kessler. About one-third of the system output provides power to the Kessler Facility while the remaining two-thirds of the power generated is sent directly to the "power grid," which is providing green sustainable power to the citizens of New Jersey.
SPG Solar Inc., a leading national solar energy company, engineered, constructed and will maintain the system. The system is expected to generate more than 1.1 million kilowatt hours annually, which is the equivalent of powering up to 107 average American homes yearly.
STC Solar, a national solar power developer headquartered in Miami, developed, financed and owns the system. Through a long-term PPA, STC Solar was able to offer Kessler, a national plumbing distributor, the benefits of solar power generation, with no upfront capital costs, along with rates lower than the utility.
"As a distribution company impacted by volatile oil and energy costs, Kessler is planning for the future by locking in a predictable, long term cost of electricity while at the same time supporting local economic development in New Jersey," said SPG Solar CEO and President Chris Robine.
Charles Treister, a partner in STC Solar said, "This 1 Megawatt rooftop solar power system showcases the high financial returns and benefits for the use of commercial solar energy. It is a win-win for all parties involved, saving money for businesses and helping the U.S. provide green jobs while promoting energy sustainability."
About SPG Solar
SPG Solar is a leading national solar energy company providing the highest quality and most reliable distributed solar power systems to large commercial, industrial, government and public energy users. Headquartered in the Bay Area, California, SPG Solar has been delivering the highest quality solar energy solutions to its customers for over a decade. SPG Solar provides the best products and services to clients from the SPG Solar SunSeeker® Tracker, a leading ground mount system generating more solar power, to SPG Solar Structured Finance, a team providing a full array of financial resources and expertise. With over 68 megawatts installed coast-to-coast, SPG Solar is a proven solar partner. For more information on SPG Solar and distributed solar power, please visit http://www.spgsolar.com.
About STC Solar
STC Solar is a national renewable energy company specializing in the development, ownership, and operation of commercial solar energy installations. Based in Miami, Florida, the principals of STC Solar, Charles Treister and Steven Schiff, utilize their extensive knowledge and experience in alternative energy, real estate development, finance and construction to provide their clients with clean sustainable energy at costs which result in immediate savings, along with future hedges against ever-increasing utility rates. Through the company's financing strategies and power purchase agreements, STC Solar is positioned to handle the entire solar project from construction to operation without requiring any capital outlay from host clients. For more information on STC Solar and how any business can enjoy the benefits and cost savings of commercial solar power, please visit http://www.stc-solar.com
###