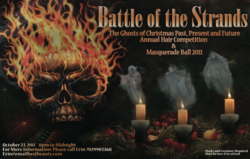 Battle of the Strands is a show of force by stylists of the world's entertainment capital.
Las Vegas, Nevada (PRWEB) October 11, 2011
On October 23rd, 2011, Best Beauty Essentials is hosting an event to bring awareness about Las Vegas' hidden treasure to the beauty industry. The "Battle of the Strands" (http://www.battleofthestrands.com) will be held at the Spanish Mansion, a two and a half acre venue about a mile and a half from the strip. From eight in the evening until midnight, participants in this event will compete in a hair, make-up, costume, props, and execution impact competition. The five salons competing are given a theme and asked to portray it onto their three models. This year's theme is "Ghosts of Christmas Past, Present, and Future." Four respected industry judges will pick a winner based on a variety of categories and the winner will receive the award for Top Salon of Las Vegas 2011. Additional awards will be given for exceptional talent in hair and make-up as well. The attendees will be entertained by a fashion show from LVMH Sponsored Piazza SEMPIONE, a dance performance by VZ Dance Studios, and more surprise acts promising to make the night a unique and exceptional experience for everyone.
40 million people visit the city of Las Vegas, Nevada each year. These people come for a variety of reasons, but rarely do people come to take advantage of the outstanding beauty services that Las Vegas salons have to offer. Some of the strip's most luxurious casinos have the best salons in the country but they are rarely recognized for their talented staff. Battle of the Strands main objective is to ensure that the Las Vegas Beauty Industry is viewed as the Mecca of beauty attraction and is a thriving salon industry with talented and respected artists.
Battle of the Strands is not only a competition, but a masquerade ball as well. Attendees are requested to wear costumes reflecting the theme and the best costume will be awarded a prize. Among the 500 attendees will be salon owners, stylists, and VIP celebrities.
The following four stylists will be judging the competition: LaVey Ortiz, a Las Vegas celebrity make-up artist who is a favorite of celebrities including the Kardashians, the Hiltons sisters, Molly Sims, Rosario Dawson, and more; Kari Kisch, a stylist who has worked on celebrities including Alicia Keys, Michelle Obama, and Jennifer Aniston, as well as numerous magazine photo shoots; Lyle Malapit, Las Vegas Salon Owner, and hairstylist with almost a decade of experience; and Jenniveve McPherson, a costume designer who has designed for Vegas shows and owner of the production company and design team The Beverly Project, which has designed red carpet costumes for celebrities such as "The Hills" star Audrina Patridge and "Jersey Shore"s Nicole "Snooki" Polizzi.
VIP and celebrity guests will arrive in Lamborghini and Audi luxury cars. On display is the highly celebrated Lamborghini's brand new supercar called the Aventador. It is the much-anticipated successor to the Murcielago and runs a 6.5-liter, 700HP, V-12 motor. This very limited production supercar is still set to hit the US consumer market in November.
The participating salons are The Spa at Trump featuring Eli Sabat, Walk in Salon by Robert Cromeans at Mandalay Bay, Kim Vo Salon at the Mirage,
Canyon Ranch Salon at the Palazzo, and Cariloe Concept Salon.
Sponsors for this event include Izunami Hair Tools, Bhumi Earth make up brushes (http://www.bhumimakeupbrushes.com), Lamborghini of Las Vegas, Audi Henderson, LVMH Sponsored Piazza Sempione, Best Beauty Products Today, and Samantha Rose Jewelry. More Sponsors are expected to join this elite list of brands, in support of the competition and it's cause.
Food for the event will be catered by Wild Truffles, a high end Las Vegas caterer lead by prominent Chef Eva Paulussen.
"Many people think that the best salons are in New York and California," said Erin Utter, Director of Operations for Best Beauty Essentials (http://www.bestbeautyproductstoday.com). "We challenge this notion as we present you with five of the top salons in Las Vegas.
Battle of the Strands is a show of force by stylists of the world's entertainment capital."
VIP guests are welcomed by invitation only. Those invited can invite more guests depending on the availability of seats. The tickets are available on the website for $98 for general public and $87 for beauty professionals and stylists, which includes the full show, open bar, and food.
###