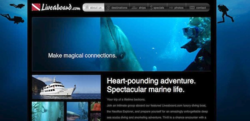 I want Liveaboard.com to be the 'go to' site for divers around the world.
Augusta, Georgia (PRWEB) October 12, 2011
Liveaboard.com, a scuba diving vacation specialist, is seeking owners and captains of scuba diving liveaboard boats worldwide interested in adding their inventory to the Liveaboard.com roster of specialty diving boats that host vacationers on scuba diving liveaboard excursions. In addition to boat owners and captains, Liveaboard.com is also seeking scuba diving-related businesses and industries as advertising partners on its website.
In order to be listed and promoted on the Liveaboard.com website, every boat must pass a thorough review and boat owners and captains must meet specific experience and qualification criteria. By year's end Clements expects the site to be promoting more than 100 scuba diving liveaboard boats. As part of this initiative, Liveaboard.com is currently offering a 10% discount to divers on bookings made in November and December from their existing inventory (subject to the terms and conditions listed on the website). Clements also indicated that in 2012, he plans on expanding to include sailing, yachting, and fishing boats to promote their services as well.
When asked how he got the idea for Liveaboard.com, Clements said that it was his love of scuba diving and travel, combined with his technical expertise, which resulted in the creation of the online travel agency. Clements added, "I want Liveaboard.com to be the 'go to' site for divers around the world. I want [Liveaboard.com] to be the authority and the best travel agency to book scuba diving liveaboard vacations." According to Clements, employees of Liveaboard.com must all be certified scuba divers, noting "How else are they going to be able to relate to our customers?"
Representatives of the Liveaboard.com team will be attending the Diving Equipment & Marketing Association (DEMA) show in Orlando, Florida, November 2-5, 2011. The Liveaboard.com team welcomes inquiries and looks forward to meeting interested scuba liveaboard boat owners and boat captains at the show along with other dive industry specialists interested in advertising partnerships with Liveaboard.com. If you are unable to attend the DEMA show but would like to know more about listing your boat and services or advertising on Liveaboard.com, contact Stephanie Beavers at diving(at)liveaboard(dot)com or call 800-419-4394.
###