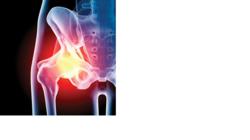 Hip arthroscopy has a promising future. It's much less invasive and helps younger people with injuries or degenerative hip pain make a full return to their activities.
(PRWEB) October 12, 2011
Studies indicating the success of minimally invasive arthroscopic hip surgery to treat professional athletes may give new hope to younger Americans experiencing hip pain, according to Dr. Christian Heywood at Santa Cruz Orthopaedic Institute (SCOI).
Prominent athletes such as pro golfer Greg Norman, Yankees slugger Alex Rodriguez and Arizona Cardinals quarterback Kurt Warner have emerged as strong as every after undergoing arthroscopic hip surgery. Their experience proves that hip surgery no longer remains primarily in the realm of geriatric medicine.
Their success also supports research that indicates minimally invasive hip arthroscopic techniques give athletes another opportunity to return to their sport. A current study by Rush University Medical Center showed that 78 percent of athletes returned to their sport within nine months, and over 90 percent were capable of competing at the same level.
In addition, a 10-year study by researchers from Cornell and the University of Michigan Medical School showed that hip arthroscopic techniques gives hope to those experience pain from congenitally malformed hips as well as injuries.
"Hip surgery is mirroring knee surgeries advances in terms of minimally invasive techniques, with results that are good news for athletes and other middle-aged adults," said Dr. Christian Heywood, who specializes in sports medicine and arthroscopy at Santa Cruz Orthopaedic. "This gives a lot of hope for alleviating pain and restoring mobility to athletes and others, most of whom are under age 45."
Minimally invasive hip surgery is performed through small incisions aided by a fiber optic camera. Previously, surgeons would have to make full open incisions and dislocate the hips to perform such procedures as osteoplasty for hip impingement. Since open techniques can require months of healing and present possible complications, patients' pain was often addressed only with medications or physical therapy.
According to Heywood, the new minimally invasive procedures are generally an option for younger, active patients with hip pain but no significant arthritis, allowing for slowing down the progression of degenerative changes. The less invasive approach also reduces post-surgical pain and speeds up recovery.
Dr. Heywood is the only surgeon performing minimally invasive hip arthroscopy in Santa Cruz County, and is one of two or three such surgeons within the entire Central Coast. Common hip injuries include tears in the labrum, a rubber-like tissue that stabilizes and distributes stress in the hip like a gasket, with similar functions as the labrum in the shoulder.
How each person's femur and acetabulum (ball and socket) are shaped can also cause pain from impingement injuries, abnormal contact between the rim of the socket and the neck of the femur. Femoro-acetabular impingement, FAI, can cause pain as the labrum gets pinched, often resulting in tears in both the labrum and articular cartilage. Those with joints more cone shaped rather than round can lead to impingement over time, which can also result in early hip arthritis. FAI is common in high-level athletes, but active adults involved in such sports as taekwondo, golf, ballet/figure skating, ice hockey, baseball, yoga and snowboarding are also in danger.
Fortunately, hip arthroscopy can help athletes and active adults stay active.
"Hip arthroscopy is a burgeoning procedure with a promising future," added Heywood. "It provides a much less invasive approach to helping younger people with injuries or degenerative hip pain make a full return to their activities, rather than experience their quality of life lessening with each passing year."
More information is at http://www.santacruzortho.com, or by calling (831) 475-4024.
Contact:
Gail DeLano
DeLano Communications
831.588.1567
gdelano(at)sbcglobal.net
Gracia Krakauer
SCOI
831.475.4024
gkrakauer(at)pmgscc.com
###