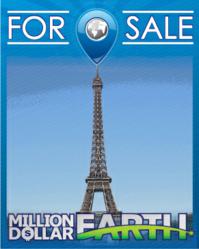 [Businesses who purchase a landmark] can be associated with staying power, perseverance, the dawn of civilization, and all of these brand attributes would be very intriguing to a lot of companies.
- Lee Lorenzen
Founder of Shop.com
Puyallup, WA (PRWEB) October 12, 2011
Ten days from now there will be a new owner of the Eiffel Tower. Million Dollar Earth, a site designed to help people organize their social media outreach strategies online, is now auctioning off locations such as the Taj Mahal, Egyptian Pyramids, the Eiffel Tower and the White House on Ebay.
"I am excited to see how people will incorporate a landmark like the Eiffel Tower into their brand." says Ryan Hart, creative catalyst behind Million Dollar Earth. "Imagine a brand like Magellan taping an iPhone inside their ToughCase being thrown off the Eiffel Tower and surviving the drop."
Celebrities and businesses such as Ashton Kutcher in Los Angeles, Coca Cola in Atlanta, and Amanda Knox on Perugia have used cities to connect to their fan base on Million Dollar Earth.
"What is so cool about the Pyramids being listed for sale on eBay is that [they are] one of the seven wonders of the world, and instantly recognizable anywhere on the planet," said Lee Lorenzen, Founder of Shop.com and President of Altura Ventures . "[Businesses who purchase a landmark can be] associated with staying power, perseverance, the dawn of civilization, and all of these brand attributes would be very intriguing to a lot of companies."
Brainstorming for new ways to give people joy through Million Dollar Earth has been a blast for Ryan.
"My main mission remains the same as ever," laughs Hart. "That everyone will have fun with [Million Dollar Earth] and that maybe we can help someone else in the process."
Currently Million Dollar Earth is on its way to achieving its goal to provide clean water for life to 50,000 people in Africa and South America through donations to Charity:Water. Ryan is thankful for the progress towards helping so many lives and hopes that the impact will supersede his expectations.
To learn more about Million Dollar Earth and its vision visit Ryan Hart's blog MillionDollarEarth.com/blog or visit the Million Dollar Earth eBay store linked to at the beginning of the article.
# # #