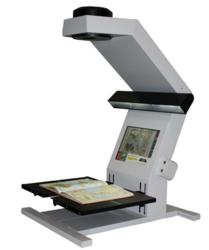 "...the (book2net Kiosk) scanner has really stood up to the challenge of this big project," said Steven Elliott, general manager, Epic Marketing Solutions
Halifax, NS (PRWEB) October 12, 2011
The Book2net Kiosk is a scanner that includes a high-resolution, single-shot camera that can scan up to 2,000 pages per hour and is still gentle on books; it can also handle oversized documents and scan with clarity and accuracy. Epic Marketing Solutions is using the scanner to digitize documents from the Land Registries Office, each book the size of a tabloid newspaper and weighing up to 10 pounds.
"We have different locations and different staff that have needed to be trained quickly for this project. Because of the scanner's ease of use, they have all been sailing within hours; the scanner has really stood up to the challenge of this big project," said Steven Elliott, general manager, Epic Marketing Solutions.
"When you're handling government documents, security, accuracy and simplicity are paramount, so we were pleased to provide this book scanning solution for Epic Marketing Solutions and their clients," said Robb Richardson, president, Book2net, North American Operations.
In addition to the digitizing project, Epic Marketing Solutions has also undertaken a variety of database and data entry projects for the provincial government. The company began as the marketing branch of EPIC Education Program Innovations Center and now offers consulting, marketing, web hosting, database management and more.
About Ristech Company
Ristech Company is a leading distributor of document management and micrographics solutions for the Canadian and U.S. markets. Formed in 1995, we have built our name on a commitment to providing companies with leading-edge technology, convenient service offerings, and the expertise and knowledge required to support these technologies. For more information, please visit http://www.ristech.ca.
About book2net Inc.
book2net Inc. is an international alliance of manufacturers, libraries and service providers that design and produce book scanning technology. With an installed base of more than 500 clients including the Library of Congress, the British Library, National Archive of Sweden and many leading academic libraries in North America, book2net develops technology from the ground up with end users at the table. For more information, visit http://www.book2net.net.
###