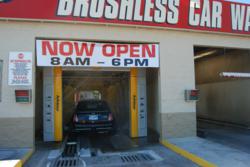 We believe that our AUTOBASE car wash systems will bring more and more convenience to Americans and take US car wash industry to a new stage.
Bejing China (PRWEB) October 11, 2011
"This TEPO-AUTO tunnel car wash machine installation is a full new technology representative. Also this model is the main recommendation model of AUTOBASE car wash systems." said Axis, general manger of AUTOBASE, "We believe very strongly that our TEPO-AUTO automatic car wash will satisfy all of our customers and win their trust."
AUTOBASE, on behalf of China's car wash industry, has participated in World Expo 2010 Shanghai and Asian APEC Financial Summit 2009, which earned itself an enormous market space in the US.
In U.S., Europe, and other developed countries, the automatic car wash industry development is already very mature. And US made machine takes the leading position in these mature Car wash station. Then how to stand out as a Made-in-China product? In China, The manufacturing industry is mature, which could be seen from the supporting services, manufacturing, logistics and other aspects of development. In 1998, many European and U.S. manufactures came to China to set up factory, all this reflected the global competitiveness and advantages setting up factory in China. AUTOBASE wash systems, as the representative brand of the Chinese automatic car wash systems, its developing speed in the world make the customers surprised.
"It's not enough for us, or you can simply say it's not enough for any one in car wash industry if they want to go further," said Axis, "we have long been specialized in enhancing the quality and lower prices, and now we own highly cost-effective automatic car wash brand. It is clear that AUTOBASE will be the first choice of global car wash industry."
Actually, AUTOBASE wash systems have been serving more than 60 countries since its birth in pursue of high quality and services details. Quality control, professional services and a strong AUTOBASE American company team, all which enable AUTOBASE to occupy the US market at a great lick. Attached with over 30 years experience in the US car wash industry, AUTOBASE US services team is continuously making efforts to satisfy the real needs of customers, which can realize fast access to the customers for efficient services.
"We believe that our AUTOBASE car wash systems will bring more and more convenience to Americans and take US car wash industry to a new stage." Axis added.
For more information, please visit http://www.autobase.com.cn/
About AUTOBASE
AUTOBASE, the largest automatic car wash manufacturer of China , foot prints over 60 countries. In 2010, after the restructuring of the Group formally changed its name to AB. AB Group is involved in business, including environmental protection, rail transportation, cleaning systems, automotive service chain and so on.
###