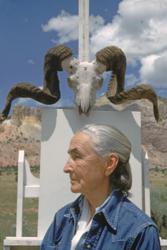 I feel there is something unexplored about women that only a woman can explore.
Georgia O'Keeffe
Santa Fe, NM (PRWEB) October 25, 2011
The tour Notable Women in Northern New Mexico's History--A tour through their place and spaces, created by Seven Directions Tours, is a perfect short inspiring vacation also suitable for the cooler season.
Northern New Mexico has attracted adventurous spirits for a long time, a couple of centuries at least. It is far and scarcely populated, it is beautiful, it inspires. Artists have been charmed by the light and colors of Northern New Mexico, others for the authenticity of the place. Most visitors didn't know that coming to New Mexico would change their life and make them decide to stay in one of the West's wildest places.
Many of these visitors were women who came to explore or in search of a more independent way of life, often attracted by the cultural heritage and the connection with nature. A common denominator is the spirituality that this land induces.
This journey, designed by Seven Directions Tours takes where these outstanding women were each inspired by the unique landscapes and cultures of the northern tier of the state. Taos, Santa Clara and San Ildefonso pueblos, Abiquiú, and Santa Fe are the destinations selected for this journey.
Among Taos' attractions was an authentic spirit of independence, privacy, and creativity that lived outside of mainstream societal boundaries – and lives on today. This is the town of women like the resolute Mabel Dodge Luhan, a personality of great contradictions, extremely intelligent and a real mover and shaker of her times. Millicent Rogers, a beautiful and wealthy woman with a sophisticated style of her own was transformed by her life in Taos.
Agnes Martin whose birth centennial is celebrated in 2012 at the Harwood Museum with the exhibition "Before the Grid" is an outstanding exponent of abstract expressionism, and Frieda Lawrence who with her famous husband D.H.Lawrence spent some memorable times in Taos, are other two personalities who contributed to the town's exceptional environment.
The Pueblo potters Maria Martinez, of San Ildefonso Pueblo, and Margaret Tafoya, of Santa Clara Pueblo, are among the founders of a reinvigorated pottery making dynamism that moved Native American traditional craft to art form. Georgia O'Keeffe has the whole area around Abiquiú named after her. Here is where she found inspiration for many of her paintings and lived for many years before moving to Santa Fe at the end of her long life.
The story of the White sisters, who came to Santa Fe in 1821, is emblematic of the life of many women who moved to Northern New Mexico where they found their awakening and new motivations. Their wonderful estate, El Delirio, is a destination in itself.
With such a singular cast of famous names as these, New Mexico has moved from a frontier to a sophisticated society. The contributions and talents of these prominent front runners, among many others, have influenced society in numerous ways, from the arts, to literature, and science.
The tour also includes meeting with contemporary outstanding women, whether artists, fashion designers, writers, or chefs.
2012 marks New Mexico's statehood Centennial, when it became the 47th state of the Union, and the new tourism campaign of the town of Taos, dedicated to the "Remarkable Women of Taos". New Mexico won America's best licence plate award for the beautiful turquoise Centennial plate to honor the 100th anniversary of statehood in 2012.
For further information and media inquiries: Patrizia Antonicelli – Tel.505.820.3305
In its seven years of operation, Seven Directions | Cultural and Sustainable Tours has established itself as one of the finest sustainable tour operators in the Southwest. It facilitates exceptional tours which create a memorable and authentic experience that is relaxing and profound in every respect. Specifically, Seven Directions tours caters to a wide-ranging audience that seeks a hands-on experience that puts them in touch with the landscape and the people. What its clients learn is salient information in the comfort of a tour they can customize.
Seven Directions Tours caters to large and small groups, and individuals. It also specializes in Fly & Drive programs that clients can take on by themselves.
###