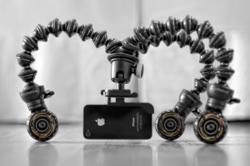 CineSkates is the third-highest funded Kickstarter campaign in history with nearly 1,500 backers.
Austin, TX (PRWEB) October 11, 2011
CineSkates™, a portable camera dolly from Cinetics™, has struck a nerve with filmmakers during its Kickstarter product release, the third-highest funded campaign in history with nearly 1,500 backers to date. Responding to the most common request from users, Cinetics has now created a ready-to-go CineSkates System for iPhone® 4 & iPhone 4S, which will be sold at a discount to Kickstarter backers during the remaining three days of the campaign. Cinetics is also launching CineSkates Showdown, a video contest for CineSkates users, which will now feature a category for iPhone videos.
Developed in an MIT MediaLab class, CineSkates is a unique set of wheels that attach to a tripod and enable the user to put their video in motion. They are designed to work specifically with the GorillaPod Focus™ tripod and a ballhead. New to the CineSkates System for iPhone is the Glif™ tripod mount for iPhone 4 and iPhone 4S, another Kickstarter success story and collaboration to bring the highly requested iPhone integration to users. The system is available today as a new reward level on Kickstarter at a discounted price of $275.
CineSkates Showdown Video Contest
CineSkates Kickstarter backers and early customers will have the opportunity to participate in a Cinetics video contest for the chance to win $500 cash or a SXSW Film Festival pass. Entries are now open. Voting will begin on November 30, and winners will be selected based on viewer feedback on December 21, 2011. The contest will consist of 5 categories:

Cinematic Sequence
Timelapse Photography
Stop-motion Animation
Creative CineSkates Set-up
Mini Camera (shot with iPhone®, Android™, GoPro®, and other small cameras)
Each category winner will receive a pre-production version of Cinetics' future product, which will be compatible with the Cinetics Connect™ system built into CineSkates. Contest rules and entry instructions are available at http://cinetics.com/cineskates-video-contest.
The inaugural Kickstarter campaign ends on Friday, October 14, as does the discounted CineSkates pricing. Backers can get CineSkates for a $150 pledge in addition to the CineSkates System that features the required GorillaPod Focus tripod and BallHead X for $275 including shipping. Cinetics remains on schedule to ship Kickstarter pre-orders by the end of October. After completion of the CineSkates Kickstarter campaign on October 14, Cinetics will continue to take pre-orders through cinetics.com. For full pricing information, visit http://www.cinetics.com/kickstarter.
About Cinetics™
Cinetics was founded in Austin, Texas with one major goal… to create innovative tools for filmmakers and photographers that combine the power to captivate with the luxury of portability. For information about Cinetics, please visit http://www.cinetics.com.
###