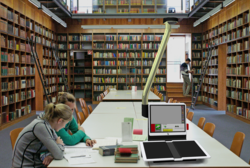 "...this technology can save government agencies, libraries and businesses time, money, energy and labor costs." Robb Richardson, President book2net North America Operations
Ottawa, ON (PRWEB) October 13, 2011
At this 18th annual conference with a theme of "Working together to better serve Canadians," Ristech will showcase the Book2net Spirit, the first entry-level high-resolution book scanner designed for fast and simple public use.
"As a Canadian company that invests a lot of time, effort and insight into the latest in scanning technology, we are really pleased to join the annual GTEC event," said Robb Richardson, President, Book2net, North American Operations. "We are also looking forward to sharing more about the Book2net Spirit, which can save government agencies, libraries and businesses time, money, energy and labor costs."
This year's GTEC conference will be held at the Ottawa Convention Centre, and will host about 7,000 participants, speakers and exhibitors from across Canada and the world.
About Ristech Company
Ristech Company is a leading distributor of document management and micrographics solutions for the Canadian and U.S. markets. Formed in 1995, we have built our name on a commitment to providing companies with leading-edge technology, convenient service offerings, and the expertise and knowledge required to support these technologies. For more information, please visit http://www.ristech.ca.
About book2net Inc.
book2net Inc. is an international alliance of manufacturers, libraries and service providers that design and produce book scanning technology. With an installed base of more than 500 clients including the Library of Congress, the British Library, National Archive of Sweden and many leading academic libraries in North America, book2net develops technology from the ground up with end users at the table. For more information, visit http://www.book2net.net.
###