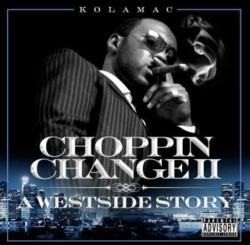 "I make music for the streets with a lot of style, grace and wit, with a couple jewels in there," KolaMac
Los Angeles, California (PRWEB) October 11, 2011
KolaMac is back with the second installment of his legendary Choppin Change series with the release of his latest album "Choppin Change II: A Westside Story." The album drops October 11, 2011. See the "Choppin Change II: A Westside Story" video trailer here.
KolaMac has enjoyed early success with tunes from his first album "Choppin Change: A Westside Story," and a pair of popular mix-tape entries, Eat Or Don't Volumes I and II. But this long awaited new release has a collection of hard hitting and masterfully produced and performed tracks that have set this CD up to be a classic album.
"Bang Ya Head Harder" is first single to be released from the album and it is gaining mad traction with the Music video produced by Dem Jointz.
The album track list includes soon to be favorites such "Slow Speed", "If You Want It" feat. French Montana and "Shawty Is A Problem."
The album features Bronx, New York rap star French Montana and production by Interscope Records beatsmith Dem Jointz who has worked with 50 Cents and various Interscope record artists; Rob Holiday -the best kept secret and producer for P. Diddy - who produced various records on P. Diddy's "Last Train to Paris" album along with Lil Wayne's standout tracks on "John" featuring Rick Ross form the "Tha Carter IV." The album also features production from Miami based producer Balistic Beats from the Miami Grammy Society and West Coast legend Rhythm D who has done previous production for West Coast icons Easy E, Dr. Dre and Snoop Dogg.
KolaMac's game has been consistent; his grind unrelenting. "Chopping Change II: A Westside Story" underscores the extraordinary talent of this premier artist who has been called the "hottest unsigned" West Coast performer in the game. With the release of his latest album, he won't be unsigned long.
"I make music for the streets with a lot of style, grace and wit, with a couple jewels in there. My music is not for poisoning or mis-directing the youth, but more for motivation and inspiration," said KolaMac. "I wanna motivate people to grind, advance and come up, because that's where my head is at."
The album is available at itunes. "Chopping Change II: A Westside Story" is also available at online at Amazon.com, Rhapsody, iHeartRadio, Spotify, MySpace Music, MediaNet, eMusic, Zune, Napster, VerveLife. Hard copies can be purchased at Paypal by emailing teamroundtable(at)gmail(dot)com.
Follow KolaMac at Twitter and Facebook.
###