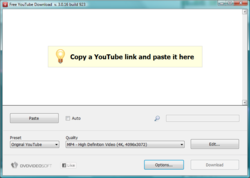 "DVDVideoSoft has worked hard on adapting YouTube programs to the new YouTube hosting rules.
New York, NY (PRWEB) October 13, 2011
YouTube downloaders from DVDVideoSoft have already gained popularity among thousands of users all over the world. Lately DVDVideoSoft has updated the interface of all YouTube programs. The freshness of the new look is in a much more advantageous position compared to older versions of the same programs. By the end of year 2011 DVDVideoSoft plans to finish brand restyling and to release a new website and other programs (converters, burners, etc) with updated design.
Developed to make downloading from YouTube an easy task, the YouTube programs now feature new options for more convenient downloads. Besides convenient default settings some extensive functionality has been added to the tools. For example, it has become possible to easily adjust download settings in the Options of the program.
One more important thing about the latest update is that YouTube videos which previously caused problems or required YouTube authorization now can be downloaded flawlessly and just with a couple of clicks. DVDVideoSoft company's representative, Alex Wang: "DVDVideoSoft has worked hard on adapting YouTube programs to the new YouTube hosting rules. Cooperating with users DVDVideoSoft has seized the opportunity to be the first to streamline their tools which now work again without any problems."
Free YouTube Download is the simplest tool for downloading videos from YouTube in any quality which is available including the newly introduced HD 4K resolution (4092 x 2304). Users can save all their downloading history and then make a search by title.
Free YouTube to MP3 Converter extracts audio from YouTube video, while Free YouTube to iPod and PSP Converter and Free YouTube to iPhone Converter are specially designed for particular devices such as iPhone, iPod, PSP as well as certain mobile phones. Finally, Free YouTube to DVD Converter burns YouTube videos to DVD with one click thus economizing users' efforts and time.
All updated YouTube programs are included in a single package of Free Studio 5.2 and are waiting for their users on the company's website http://www.dvdvideosoft.com.
About DVDVideoSoft:
DVDVideoSoft (http://www.dvdvideosoft.com) is an independent developer of multimedia software programs for video and audio processing. The company was founded in 2006 as an affiliate distributing paid software. Today DVDVideoSoft offers 44 applications which are sincere to use and functional, writes step-by-step instructions on how to solve different multimedia tasks with the help of its programs and, if necessary, provides free comprehensive support in English, German, French, Spanish, Italian, Russian, Chinese and Japanese. The amount of everyday visitors to http://www.dvdvideosoft.com is constantly growing and today reaches 350,000.
###