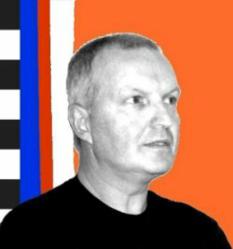 I'm betting on the fact that the world is changing fast - and that the art world is changing with it
(PRWEB UK) 13 October 2011
Gambler / sports writer Loz Taylor will be exhibiting some of his Demo-Pop Art at the prestigious Parallax Art Fair, Pall Mall, London (October 14-16). Judge for yourself if he is a Warhol wannabe - or the real deal.
When you are born to parents of modest income, and find yourself living in the backstreets of Walsall, you have to gamble to get out.
Not that Demo-Pop artist Loz Taylor needed much persuasion, as a life of chance and risk was always going to be preferable to a life of confinement in a factory.
Gambling has always played a big part in Taylor's life, with the more respectable role of sports writer being bestowed almost as a service medal, but in Demo-Pop Art Taylor has found a vehicle that enables him to engage in serious analysis of a more visual kind.
But, now aged 51, and with no art degree to his name, hasn't he left it a bit late to be joining the art party? Taylor says: "I'm betting on the fact that the world is changing fast - and that the art world is changing with it. There's a new order coming, with new rules, and they are going to be based on technology and networking."
The story goes that Taylor had to store his images away in his head for years, because the computer and print technology wasn't of the quality it is today, hence the name of his art business 'Stored Images'. Taylor continues: "Yes, that's basically true, I was never a painter, so had to wait until a means of expressing myself became available, and now that it has, well, it feels like I've been given a seat at the table."
Checking out his four year blog - http://stored-images.blogspot.com - I can see that the word SACRED is an acronym for Sex, Ambition, Competition, Risk, Endeavour and Death. Everything begins with sex and ends with death, says Taylor, who is uniquely placed to take a detour that encompasses the many aspects of competition and risk. But where is all of this leading?
Taylor: "Pop Art is unfinished business as far as I'm concerned. Call me a Warhol wannabe if you want, but I'm simply standing on the shoulders of giants. I'm a serious analyst, be it gambling or art, and I see that there are related avenues to explore."
So how does the Parallax Art Fair fit into things?
"I'm really excited about the show. I'll be there with a selection of my Demo-Pop Art, and will be staying for the whole three-day run of the exhibition. I'm interested in talking to people who are serious about art, be it collectors, gallery owners, crtitics or art dealers. I'm rolling the dice, that's for sure, but I beleive I'm doing it for the right reasons."
The Parallax Art Fair, Pall Mall, London. October 14-16.
###