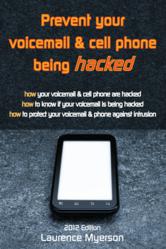 "Your greatest weapon against crime is your brain"
London & Florida, USA (PRWEB UK) 13 October 2011
Author Laurence Myerson's book is the perfect introductory guide on improving the public's basic knowledge of phone hacking and the important cell phone security set up procedures for; government phones, diplomat phones, Law enforcement phones, corporate phones, business phones, celebrities, single women, single men, husbands, wives, boyfriends, girlfriends, kids & teenagers who want to expand their knowledge on hacking & how to protect their voicemail and cell phone.
The chapter on Bluetooth and Wi Fi hacking explores the dangers where hackers use Bluetooth and Wi Fi to gain unauthorized access into a cell phone to gather information.
Prevent your Voicemail and Cell Phone being Hacked is an information guide specifically for people who have limited or no knowledge on phone hacking including the correct procedures on how to set up the 5 essential cell phone and voicemail security procedures required to protect a cell phone and voicemail.
Chapters Include:
1. Your cell phone
2. Voicemail hacking
3. Voicemail
4. Accessing your voicemail
5. Who are the hackers?
6. Who is vulnerable to being hacked?
7. Understanding passwords PINs, passcodes
8. The ways to hack voicemail
9. How to know if your voicemail has been hacked
10. How to protect your voicemail and cell phone against intrusion
11. Hacking voicemail from country to country
12. Company supplied cell phones
13. Children, teenagers and senior citizens
14. Cell phone, Bluetooth and Wi-Fi hacking
15. The Golden Rules of voicemail and cell phone security
16. What to do if your cell phone is lost or stolen
17. The dangers of disposing of a cell phone and SIM card
18. Celebrities: Paris Hilton – the Rooney's and others
19. Have you bothered to change your mobile's voicemail code?
Author: Laurence Myerson
Paperback ISBN: 978-0-9568361-3-7
KINDLE: ISBN: 978-0-9568361-2-0
98 Pages
Paperback size: 6" x 9"
Available at most online and bookstore outlets.
A Protect Yourself Against Crime Series
# # #