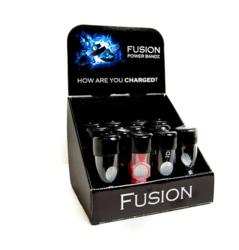 The simplicity of our Business in a Box program has fueled our growth to over 100 retail locations in the last six months.
- Matthew Ryncarz, CEO/Founder
Alpharetta, GA (PRWEB) October 13, 2011
Fusion Power Bandz http://www.FusionPowerBandz.com, the maker of patent pending ionic power bands, announced today that they have seen significant retail growth after releasing their "Business in a Box" program.
"Our goal was to make offering Fusion products as simple as possible", said Matthew Ryncarz, Fusion's 29 year CEO and Founder. He went on to say, "Our Business in a box program allows retailers to receive everything they need to start selling our products in a small initial package, with minimal financial investment."
Fusion Power Bandz has expanded to over 100 retailers in the past six month and the growth is not slowing. Another person who is excited about the program is Joey Dunne of JDCG Inc., Fusion's exclusive distributor in Chicago.
"The simplicity of the package and value of the product makes our job of retail placement very easy", says Joey Dunne. "The product sells itself and our goal is to have it offered in every small and medium sized retail establishment in Chicago."
Please click here for information on the Fusion Retail Program:
About Fusion: Fusion Power Bandz, LLC, http://www.FusionPowerBandz.com, was founded in 2010 by CEO, Matthew Ryncarz. Fusion currently contracts/employs over 50 people in customer service, product production and retail distribution. The company is headquartered in Alpharetta, GA with authorized Fusion product dealers in France, UK, Canada and Denmark. Fusion Power Bandz currently owns trademarks and applied patents over it's proprietary mineral mixture, TourmaMIX.
###