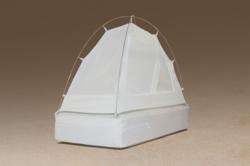 Atlanta, GA (PRWEB) October 11, 2011
Mattress Safe's® new product, NiteSafe™, not only provides additional physical protection against bed bug bites, but emotional and mental relief as well. Generally those bitten by bed bugs in their infested home lose comfort in their own homes, especially when lying down at night to sleep. The additional layer of protection with the NiteSafe™ sleep system eliminates the fear from individuals while sleeping and reduces possibilities of being bitten.
NiteSafe™ is constructed of certified materials that bed bugs cannot enter or bite through. Together with a bed bug certified zipper enclosure, our specialized design ensures complete protection throughout the night. With a tent-like design, our new product accomplishes added protection, with minimal hassle. By following NiteSafe™ usage instructions in conjunction with proper pest management protocol, NiteSafe™ increases your security for a bite free night.
Available Sizes include single- 36"w x 80"l x 48"h and double- 50"w x 80"l x 48"h.
Instructions for use include laundering or tumble drying NiteSafe™ each morning ensuring bed bug free nights.
For more information about NiteSafe™, please visit http://www.mattresssafe.com or contact our office toll free at 1-888-405-5335.
###