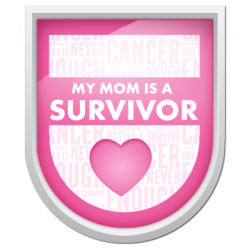 I almost lost my mom to cancer. Man did that suck. That experience inspired me to encourage the world to appreciate and honor mothers more than we do. One day is never enough to celebrate their unconditional love and courage.
San Diego, CA (PRWEB) October 12, 2011
Mothers sacrifice so much for their children and family. But sadly, even with a national holiday, there are far too many mothers who's efforts go unnoticed and unappreciated.
That's all about to change.
The Mothers Month® Movement unveiled their plans today to celebrate mothers for the entire month of November to fight cancer and raise awareness for the charity, Cancer for College. With the ultimate goal of involving the world in a massive social tribute to mothers. During the month of November followers are encouraged to make a tribute to their mother via e-mail, Twitter, Facebook, or by creating a video tribute on Youtube.
An initial goal of ONE MILLION TRIBUTES are targeted for this year's celebration.
"I almost lost my mother to cancer, that experience changed my life," said Ced Funches, founder of The Mothers Month® Movement. "That inspired me to write a children's book, and try to teach the world to love and appreciate their mothers before it is too late."
"The goal is simple. Encourage the world to honor and celebrate their mothers for 30 days and give them an easy platform to do it. You can simply go to our site and make an instant tribute to your mom." said Ced Funches. "We take our mothers for granted and sometimes forget to let them know how much they mean to us. A sincere 'thank-you' or 'I love you' can have huge impact on mothers who go some days without hearing either one."
Followers are also encouraged to call, visit, and email their mothers. With the focus not on spending money, but spending time with their mothers and expressing just how much they love and appreciate them.
You can celebrate Mothers Month® in three easy ways via the tribute site:
Make a tribute on Facebook.
Create a tribute video on YouTube. Title it: Mother Month -"YOUR TITLE"
Make a tribute to your mom via Twitter. Insert #mothersmonth.
These options are made into easy one-click steps on the Mothers Month® tribute site found at http://mothersmonth.com/tribute/.
Partnered with Cancer for College
The Mothers Month® Movement is honored to partner with Cancer for College and support it's goals for the 2011-12 giving season. "My mother is a cancer survivor and CFC is a wonderful tribute to kids who have overcome so much, and want to continue to beat cancer by attending college." said Mothers Month® Founder Ced Funches. "We will be raising funds and partnering on some amazing viral awareness campaigns to make people more aware of cancer and the need to appreciate our mothers before it's too late."
Partnered with Toutapp (NYC)
The Mother's Month Movement is proud to partner with Toutapp and give sons and daughters an opportunity to share a loving message with moms. "I'm excited about working with Toutapp to show people that sending a kind, thoughtful message with their moms doesn't have to be hard," said Mothers Month Founder Ced Funches. "I'm really passionate about helping people communicate a message that isn't heard often enough, and Toutapp is helping people do that."
About The Mothers Month® Movement
Inspired by his mother's battle with cancer, founder Ced Funches wrote a children's book and ignited a movement to celebrate and honor mothers for an entire month.The unprecedented celebration powerfully unites all races, mothers, fathers, children, celebrities and various corporations to change the way we look at appreciating our mothers. It is free to the public, because love is free.
About Cancer for College:
Since 1993, Cancer for College has been providing college scholarships to cancer survivors. Founded by two-time cancer survivor and double amputee Craig Pollard, its mission is to provide hope and inspiration to these young people who have had to endure and sacrifice so much while battling this terrible disease. Since inception, Cancer for College has granted well over $1 million in scholarships to more than 800 cancer survivors from around the United States. Visit http://www.cancerforcollege.org for more info.
About Toutapp (NYC):
"Are you tired of rewriting the same emails over and over in business? Email is the #1 communication and business workflow tool yet it continues to be a repetitive and arduous process. Tout looks at patterns in human communication and is building a better email client for businesses to help them communicate more effectively and productively. Learn more about Toutapp at http://toutapp.com."
###