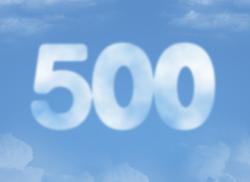 Resellers who do not embrace the cloud are not only failing their customers but also their businesses.
Hull, UK (PRWEB UK) 12 October 2011
ONE of the industry's leading cloud computing providers, Giacom ThinkCloud, is celebrating after its network of resellers reached the 500 mark.
Giacom ThinkCloud says it now has the UK's biggest team of IT support firms selling its flagship Hosted Exchange 2010 service under their own brands.
The company recently slashed the cost of its full-featured Hosted Exchange service to £2.95 per mailbox per month, which is understood to be the lowest price in the industry.
And since the price drop Giacom has seen a huge increase in activity across its reseller channel.
Giacom ThinkCloud Managing Director Nick Marshall said: "The whole Hosted Exchange and cloud-based services market is really getting under way now and we're seeing demand being pushed by end-clients up the chain, through the reseller and to us.
"Traditionally some IT support companies have been reluctant to embrace cloud services but those in our reseller network have realised that by being part of this revolution they can make greater long-term profits by having more time to service a wider range of clients.
"The majority of our resellers are UK based but we're seeing take up in the US, Norway, Germany, Switzerland, Hungary and the United Arab Emirates."
The Giacom team said that although price was the main driver, it also prided itself on doing things a bit differently. The resellers can access flexible billing terms and can put mailboxes on and off Giacom during a particular month, but they are only charged at the end of the month. The private labelled service also allows Giacom's resellers to build their own brands.
Nick added: "With the value that IT support companies can add, our reseller can add £3 or £4 per mailbox, locking in long-term residual profit."
Based in Hull, East Yorkshire, the Giacom ThinkCloud (http://www.giacom.com) team has evolved since setting up in 1999 when it offered web hosting services. It launched its successful MessageStream email filtering and archiving service in 2005 before developing its cloud-based Hosted Exchange platform in 2010.
One successful Giacom reseller is Commun IT, which currently hosts several clients with Giacom ThinkCloud.
David Banks, from Commun IT, said: "There is still this fear of migrating to the cloud, however it's the flexibility of the cloud that can turn these fears to an advantage.
"As an IT support company, we can't afford to spend hundreds of thousands of pounds on infrastructure and technology. By reselling Hosted Exchange from Giacom, we are able to deliver more to more customers, but at the same time give one-on-one support to our local customers who we have already built a relationship with. Resellers who do not embrace this are not only failing their customers but also their businesses.
"In order for us to successfully replace the revenue traditionally generated by on-site services with cloud-based services, we would have to significantly increase the size our customer base. However, the benefit of cloud computing means that we can deliver on a much larger scale and we no longer have to go to the site.
"We can sit in bed with a laptop on our knee if we want. This frees us up to actively seek out new customers and therefore utilising our new-found ability to deliver to a larger scale audience.
"In the time we've been reselling Giacom's Hosted Exchange I've found everything very easy on both sides of the coin: my communication with Giacom plus getting it up and running with customers. It has all been a very simple procedure and my customers have remained happy."
###