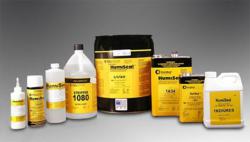 Germantown, WI (PRWEB) October 12, 2011
Ellsworth Adhesives Australia Pty Ltd (EAAU) announced today it is now an authorized distributor for HumiSeal® in Australia and New Zealand. HumiSeal® is an industry leading manufacturer of Acrylic, Polyurethane, Epoxy, Silicone, and UV Cure Conformal Coatings, offering a complete line of certified products in the industry.
As the only company in the market who solely develops and manufactures conformal coating products, HumiSeal® has become a leader in various key industries. The company delivers an innovative product range that is supported with detailed literature, certification documents and quality systems. All HumiSeal® products are qualified to MIL-I-46058C and IPC-CC-830 standards. The company's primary industries include: Automotive, Industrial Controls, Renewable Energy, and Military and Aerospace.
According to Mike McCourt, Global President of Ellsworth Adhesives - Specialty Chemical Division, "Ellsworth welcomes the opportunity to utilize our experienced team to market and sell HumiSeal® conformal coatings in Australia and New Zealand. This new distribution agreement allows us to better serve the growing needs of new and existing Ellsworth customers in that region." Ellsworth Adhesives continues to focus its efforts on strengthening its presence in key markets in the Trans-Tasman region.
To learn more, please visit Ellsworth Adhesives Australia online or e-mail info(at)ellsworth(dot)com(dot)au.
About Ellsworth Adhesives
Ellsworth Adhesives is the world's largest distributor of adhesive products and equipment. Ellsworth Adhesives is a value added supplier of adhesives, sealants, coatings, encapsulants, tapes, releases and lubricants from leading international manufacturers including 3M, Bostik, Dow Corning, Dymax, Emerson & Cuming, Fisnar, Loctite, Lord, Permabond, Techcon and many others and offers the most comprehensive level of technical expertise available. Ellsworth Adhesives operates sales offices and warehouses in the United States, Canada, Mexico, Brazil, China, Hong Kong, Malaysia, Australia, France and Thailand. Ellsworth Adhesives can be contacted directly at 1-800-888-0698 or by logging onto http://www.ellsworth.com.
###