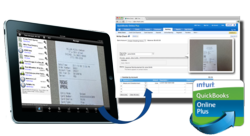 With Intuit Anywhere, new and existing ProOnGo customers can easily make a secure, authenticated connection to sync their data into QuickBooks or QuickBooks Online using an Intuit ID
CHICAGO, IL (PRWEB) October 11, 2011
ProOnGo, the award-winning web and mobile app for small business expense tracking, today announced additional QuickBooks® compatibility made possible through Intuit Anywhere. ProOnGo Expense, available as a web app, and for Android, BlackBerry, iPhone and iPad, syncs expense information between one or more mobile devices, the web app, and QuickBooks, enabling businesses and employees to track and approve expenses anytime, anywhere on any device.
With Intuit Anywhere, new and existing ProOnGo customers can easily make a secure, authenticated connection to sync their data into QuickBooks or QuickBooks Online using an Intuit ID, including receipt expenses filed using ProOnGo's Receipt Reader, mileage expenses created using GPS capabilities in ProOnGo Expense, and time activities.
Today's announcement expands ProOnGo's compatibility with QuickBooks, bringing new time-saving benefits to small businesses:

Workflow the Way You Want It: Small business owners can choose between a variety of auto-submit and auto-approve settings that tailor the expense submission and approval process for their preferred balance of control and convenience. The simplest workflow option syncs expenses into QuickBooks automatically when an employee takes a picture of a receipt with the mobile app; other options include an Approve/Deny workflow that is available to managers within both the mobile and web app.
Always Up-to-Date Web Alerts: Inside the ProOnGo web app, owners and managers see an immediate, real-time snapshot of expenses that are pending their approval or have already been reimbursed, making it easy for managers and employees to know exactly where their expenses stand in a company's reimbursement process.
Receipt Image Visibility for QuickBooks Online: A beta release of ProOnGo's extension for Google Chrome enables owners and accountants, for the first time, to be able to see receipt images alongside employee reimbursement checks in QuickBooks Online, completely digitizing the receipt image documentation throughout the workflow.
ProOnGo's support for Intuit Anywhere functionality is available immediately, for no additional charge, in all ProOnGo business packages at http://www.proongo.com/biz, including compatibility with QuickBooks Pro, QuickBooks Premier, QuickBooks Enterprise Solutions and QuickBooks Online. All packages include support for Receipts, Mileage and Time Activities, making it the complete solution for managers and employees looking to save hours each week filing and approving expenses.
About ProOnGo
With ProOnGo, businesses can record expenses anywhere, anytime from any device. Smartphone-toting road warriors can create their expense reports simply by taking pictures of their receipts with their smartphone, recording reimbursable mileage automatically using GPS, and tracking billable time by importing calendar entries and call logs. Expense details can be viewed and edited by using the ProOnGo Expense mobile app, or the ProOnGo.com web portal. Report formats include Microsoft® Excel, QuickBooks Pro®, QuickBooks® Online Edition, and more. With receipt, time, and mileage tracking, ProOnGo Expense is the complete expense tracking solution for today's busy mobile professional.
###
Intuit, the Intuit logo, and QuickBooks, among others, are registered trademarks and/or registered service marks of Intuit Inc. in the United States and other countries. Other parties' trademarks or service marks are the property of their respective owners and should be treated as such.