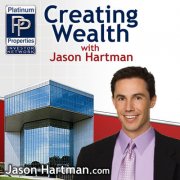 "I'm not interested in owning just any stock. I'm interested in thinking like a dealmaker," said Chris Mayer.
Irvine, CA (PRWEB) October 12, 2011
Jason Hartman, host of the popular podcast The Creating Wealth Show, sat down with author and editor Chris Mayer during the 223rd episode of Hartman's podcast. Author of Invest Like a Dealmaker: Secrets of a Former Banking Insider, Mayer lays out his strategy for corporate investing. "I'm not interested in owning just any stock. I'm interested in thinking like a dealmaker," said Mayer.
One of the primary points of Mayer's philosophy is ownership. "Nobody cares about the shop like the shopkeeper," said Jason Hartman as Mayer explained his concept. Mayer commented that most of the best investments of the last 50 years were companies spearheaded by an entrepreneur. Meyer cited Steve Jobs of Apple, Jeff Bezos of Amazon.com and Sam Walton of Wal-Mart as examples. These CEOs operated with a considerable amount of their own wealth at risk—and the dividends to investors were high because those risks paid off. In short, Hartman said, "these businesses had a soul."
Using the acronym CODE: Mayer narrowed his investment strategy to four points:
C (heap) – Purchase affordable stock.
O (wnership) – Ensure that the business's owner has a large personal—and financial—stake in the business.
D (isclosure) – Verify that the corporation is transparent with their financial dealings.
E (xcellent Financial condition) – Factor in the overall financial health of the business, viewing it as a factor of where the business will be long term.
Research is also key to Mayer's investment philosophy. Mayer cited global automotive supplier Federal Mogul, pointing out that billionaire investor Carl Icahn owns 76 percent of its stock, which has underperformed during August. "Selloffs are around 15 percent," according to Mayer. However, Mayer cites Carl Icahn's leadership and investment in the company. Icahn hand-picked Federal Mogul's CEO Jose Maria Alapont and Icahn's close management of the company suggests that it may be in for good things in the long term.
Encouraging investors to think like a dealmaker, Hartman extols the value of precision investment by citing three levels of financial management. The first, he said, is mainstream financial services – low management, low risk investments with small dividends and low management. The second tier consists of stock pickers: persons who give specific stock recommendations, allowing more control and oversight by the investor. The third is thinking like a dealmaker—specific, strategic investing by an individual.
Chris Mayer from Agora Financial is the managing editor of the Capital and Crisis and Mayer's Special Situations newsletters. Mayer is also a contributor to the Daily Reckoning. Mayer joined Agora Financial after spending ten years in the banking industry. His commentary has been featured by MarketWatch, Russia Today TV, the Atlanta Journal-Constitution, and the Huffington Post.
About Jason Hartman
One of America's foremost experts on long-term wealth creation through income property, Jason Hartman is the founder and CEO of Platinum Properties Investor Network, The Hartman Media Company, Open Door Auctions and The Jason Hartman Foundation. In 1997, Hartman realized his entrepreneurial dream and turned around a struggling real estate brokerage firm that he later sold to Coldwell Banker. Since then, he's combined his dedication and business talents to become a successful entrepreneur, public speaker and author.
Under the Platinum Properties Investor Network, Hartman's Complete Solution for Real Estate Investors™ is a comprehensive system providing real estate investors with education, research, resources and technology to handle all areas of their income property investment needs. As a media personality, Hartman's highly sought after educational events, speaking engagements and his acclaimed The Creating Wealth radio show inspire and empower hundreds of thousands of people in 26 countries worldwide. For information, call 714-820-4200 or visit Jason Hartman online.
###