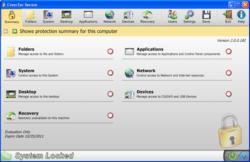 CrossTec Secure ensures a reliable PC experience at the desktop level that saves both time and money.
Boca Raton, FL (PRWEB) October 12, 2011
CrossTec Corporation, leading provider of award winning Remote Control and Classroom Management software solutions, announces today the release of a new version of their PC protection software, Secure. CrossTec Secure simplifies PC protection for organizations by securing the Windows operating system and desktops from unwanted or malicious changes, in conjunction with powerful hard disk protection and roll back technology.
New CrossTec Secure Version 2.0 offers a revamped user interface providing a new look and layout to maximize user experience and ease of use. Secure 2.0 adds enhanced rollback recovery for Windows 7 platforms and additional support for 64-bit versions of Windows XP, Windows Vista, Windows 7, and Windows Server 2008. CrossTec Secure also has added enhanced integration with the CrossTec SchoolVue classroom management software.
CrossTec Secure is designed for IT managers who would like to protect their Windows operating systems from unwanted or malicious activity in their schools or businesses. Secure 2.0 provides a safe, secure, and reliable computing experience, reducing downtime and increasing time on task. Secure is an ideal solution for shared computing environments, such as classroom computer labs or libraries.
IT staff can rest assured with the secure computing environment provided by CrossTec Secure. Users are restricted from altering system settings or critical system files, reducing the up-time of the PC. Secure offers a transparent restore on reboot feature, bringing the PC back to the default settings once the users has logged out.
"Achieving a stable and consistent computing environment is a key goal for IT staffs and educators," says Jeff Richards, VP Sales at CrossTec. "CrossTec Secure ensures a reliable PC experience at the desktop level that saves both time and money."
CrossTec Secure 2.0 integrates with CrosTec's classroom management software, CrossTec SchoolVue, ensuring that students are prohibited from making unwanted changes to their computers, while teachers have full insight and access to control and monitor student PCs.
For more information about CrossTec Secure 2.0 and CrossTec's full line of IT management, classroom management, and desktop virtualization tools, along with free evaluations, online resources, and live web demonstrations, please visit http://www.CrossTecSoftware.com.
About CrossTec Corporation:
CrossTec Corporation, headquartered in Boca Raton, FL, has been a leading provider of software solutions that simplify network and classroom management since 1996. CrossTec's mission is to empower teachers and IT managers by offering a combination of education and enterprise-tested products, substantial feature sets, superior value, and unparalleled customer service. For more information on CrossTec Corporation or the CrossTec family of products, please visit CrossTecSoftware.com. CrossTec has distribution partners across the world for their vast array of software solutions. If you are interested in finding out how your organization can become part of CrossTec's distribution network, please contact info(at)crosstecsoftware(dot)com.
###