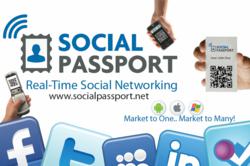 merchants can continually leverage Social Passport to promote their stores, create loyalty cards, and offer coupons, all without the restrictions that companies such as Groupon have in terms of rules for minimum discounts and hefty commission fees
New York, NY (PRWEB) October 11, 2011
Social Passport launches a real-time social networking suite which allows users to aggregate all their social network information into a single barcode which can be downloaded as an App, texted to a standard phone, or even printed out on paper. Users will not only be able to perform social media operations across multiple platforms in a matter of seconds, but additionally they will be rewarded by merchants via coupons for discounts, free gifts and other deals in exchange for scanning their Social Passports.
For merchants, Social Passport provides a unified social media suite which incentivizes social media operations performed by their visitors. Social Passport enables businesses to harness the full power of social networking while users are still at their stores or events. Social leverages hundreds of visitors' social networks into millions of impressions for your business product or service.
For too long businesses have been at the mercy of coupon giants which have demanded high commissions and high discount requirements. These marketing solutions are both unaffordable and often can only be used one time. Social Passport provides a marketing tool with no commissions and no discounts. The merchant can use it repeatedly and whenever they want without restrictions, while achieving the same market reach.
Even more impressive are the merchant tools which enable the creation of digital loyalty cards and coupons which include their own powerful statistics system to track their success. Stores can see how many scans they performed, how many people they reached on social media spaces and how many people clicked on a respective message.
CEO David Merel explains, "Merchants can continually leverage Social Passport to promote their stores, create loyalty cards, and offer coupons, all without the restrictions that companies such as Groupon have in terms of rules for minimum discounts and hefty commission fees."
By using Social Passport businesses and organizations can further communicate their product/services to new audiences, drive foot traffic into their store or upcoming events, and ultimately increase revenue, sales, and awareness.
So what are you waiting for? Sign up for Social Passport now!
To learn more about Social Passport visit http://www.socialpassport.net.
About Social Passport
Social Passport is a technology that leverages the most popular social networks (Facebook, Twitter, foursquare, LinkedIn, MySpace) in real-time, allowing businesses and organizations to quickly and easily promote their product, service or cause to hundreds if not thousands instantly.
###